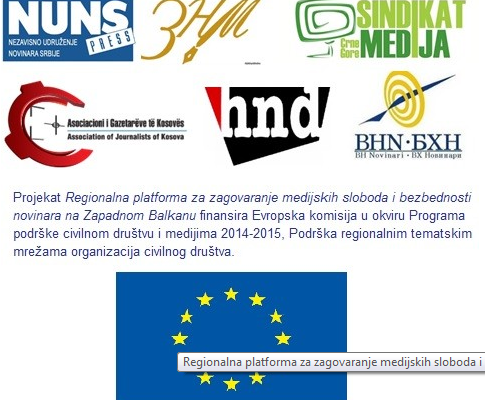 From January 1, 2016, together with partners of associations of journalists from Serbia, Macedonia, Croatia, Kosovo and Bosnia and Herzegovina, we are working on the realization of the project "Western Balkan Platform for Advocating Media Freedom and Journalist's Safety" funded by the European Union through the European Commission.
The six journalists' organizations:SMCG, the Independent Journalists Association of Serbia (NUNS), BH Journalists (Bosnia and Herzegovina), the Croatian Journalists Association (Croatia), the Association of Journalists of Macedonia (Macedonia) and the Association of Journalists of Kosovo (Kosovo) are gathered because of the growing restriction of media freedoms by the state, and the more frequent attacks on journalists in our countries. These organisations showed willingness to contribute through cooperation, exchange of experience and joint approach to recognizing and resolving these problems.
The ultimate goal of this project is to contribute to the enabling of a legal and social environment that ensures media pluralism. This will be done through the empowerment of journalist organizations that will determine their position as effective and accountable actors in advocating the application of European standards of freedom and integrity in their countries and the region. In this way, the project will contribute to the improvement of citizens' rights to information.