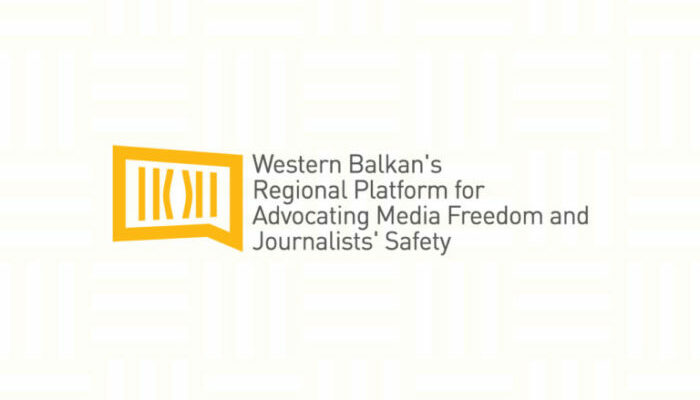 Regional Platform condemned latest attacks in North Macedonia The Western Balkan's Regional Platform for Advocating Media Freedom and Journalists' Safety, which represents more than 8000 members, strongly condemns the attack and verbal threats on the journalist and cameraman of TV21 in North Macedonia, by close relatives of the mayor of Arachinovo, Milikije Halimi from the political party SDSM.
Yesterday, after the team of TV21 filmed the poor infrastructure and the complaints of residents of this municipality, relatives of Mayor Halimi sent verbal threats to the television crew that they would break their cameras and demanded their recordings to be deleted. After the journalists refused to erase the recordings, they were forced to enter the municipal building of Arachinovo and again they faced the same threats.
They refused to erase the recorded material for the second time, and then the incident continued in the premises of TV21 where the same persons threatened the journalists and the editor-in-chief that they should not publish anything. At the same time, police officers arrived in TV21, after which the persons who were threatening the journalists left the television, while the journalist and the cameraman gave statements at the police station.
Such violent and primitive behavior, especially from persons close to politicians, is unacceptable and is an attack on the freedom of information. Furthermore, it represents a classic obstruction of journalists' work.
Later that day, the mayor Halimi condemned the attack in a letter sent to the Association of Journalists of Macedonia, saying that she demands an urgent and effective investigation by the Ministry of the Interior.
The Regional Platform supports AJM in its efforts to protect journalists and freedom of speech and calls the relevant authorities to investigate the case urgently, bring perpetrators to justice and sanction them adequately.
Every attack on journalists is an attack on the public interest, democracy, and rights of all citizens.
Skopje – Belgrade – Podgorica – Pristina – Sarajevo – Zagreb, 18.04.2019.
BH Journalists Association
Trade Union of Media of Montenegro
Croatian Journalists' Association
Association of Journalists of Kosovo
Association of Journalists of Macedonia
Independent Journalists Association of Serbia