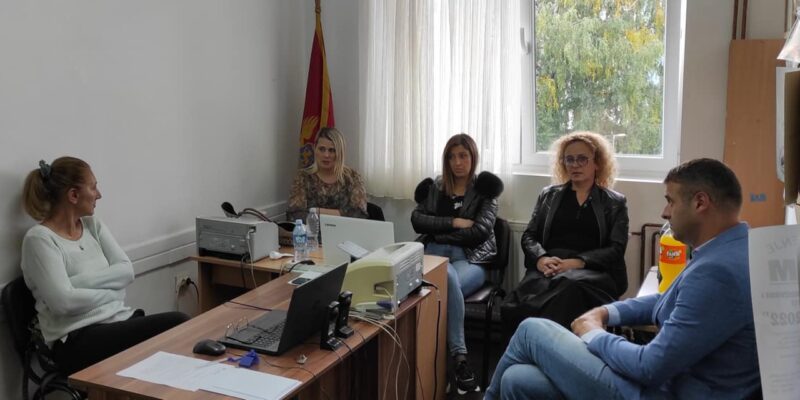 The reduction of accumulated salary arrears and the increase of coefficients for employees are the main problems that need to be solved in the future period, it was assessed at the meeting of the employees of Radio Berane and the representatives of the Trade Union of Media of Montenegro.
The president of SMCG, Radomir Kračković, and expert associates Bojana Konatar and Dražen Đurašković visited the employees of this media last week, in order to learn about the challenges they face.
The employees said that they are currently owed five salaries, that the debts owed to them were reduced in the previous period, and that they receive wages every month. According to them, the wages of employees were increased by slightly less than 100 euros on average based on the "Europe Now" program.
"Employees at Radio Berane still have the lowest coefficient of all municipal companies, which is a priority that needs to be worked on," said Milena Bubanja Obradović, editor of the Radio Berane portal and member of the Main Board of the Serbian Chamber of Commerce and Industry.
This local public broadcaster, which will celebrate its 30th birthday in December, employs 22 media workers whose average salary is 540 euros.
"It is necessary to work on a collective agreement at the employer level, and start negotiations with the founder," said Obradović.
The employees also said that they were owed differences based on the increased coefficient for the period from 2018 to November 2020. The current tax debt of that media is more than 400,000 euros.
Kračković introduced the employees to the activities on the preparation and initiation of the transfer of the Branch Collective Agreement (GKU) and the new ones that were proposed.
"We will try to improve the position of employees through the Branch Agreement, but it is more important for you to initiate negotiations with the founder regarding the collective agreement for Radio Berane. We at the Media Union are at your disposal in that process," said Kračković.
Kračković and Đurašković introduced the employees to the newspaper regarding changes in media laws and the adoption of the Media Strategy.
The visit is part of the project "Unions for a fair recovery – Strengthening the role of unions in mitigating the impact of the COVID-19 crisis", which is supported by the European Federation of Journalists (EFJ) with the support of the European Commission (EC).