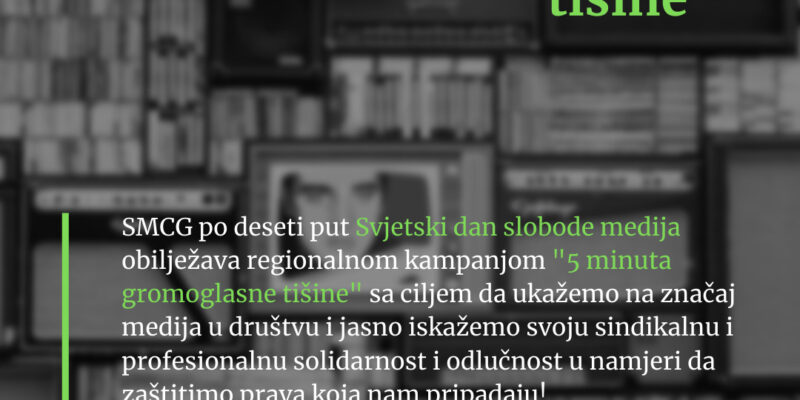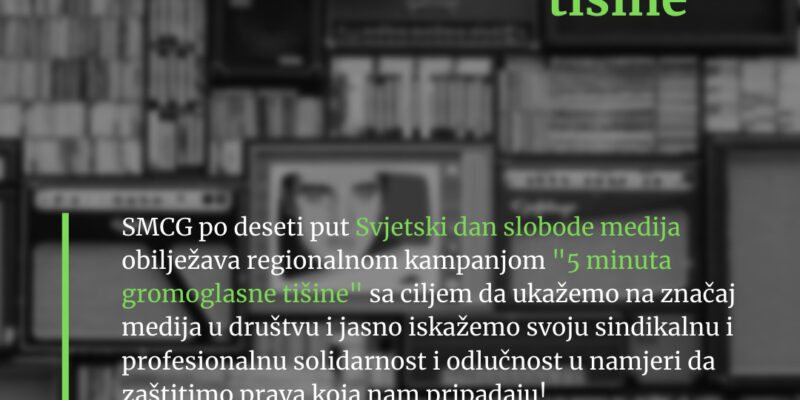 Trade Union of Media of Montenegro is participating for the tenth time in the regional action Five Minutes of Thunderous Silence, which is being organized on May 3, World Media Freedom Day.
We invite all our members, as well as all other colleagues, to join the action, which is planned for May 3, from 11:55 to 12:00, and the rules for its implementation are below.
PRESS
At 11.55 am, start protesting in the workplace and stop all work and communication until 12 noon. During the protest, a member of the Union should read aloud the proclamation on the occasion of May 3, World Media Freedom Day.
*****
RADIO
Colleagues in the radio newsrooms are asked to read the adapted text on the air and stop the program by 12 noon, or broadcast light instrumental music.
*****
TELEVISION
Colleagues in television are asked to read the adapted text from the screen and, if possible, interrupt the program until 12.00. Wherever possible, the image on the screen should be the appropriate text of the Union.
*****
PORTALS / AGENCIES
Colleagues in portals and agencies are asked to publish the announcement of  SMCG at 11.55 am and, if possible, not to post other news or comments until 12.00 pm.
*****
IN THE FIELD
All colleagues who find themselves on work assignments on May 3 at 11.55 am (especially at sessions of state and local government bodies, party and similar gatherings) are asked to stand up and thus join the action of SMCG, and by agreement they can leave the room for five minutes.
*****
With five minutes of thunderous silence, we need to clearly express our union and professional solidarity and determination in order to protect the rights that belong to us.
Thank you for your response and solidarity!
Main Board of SMCG