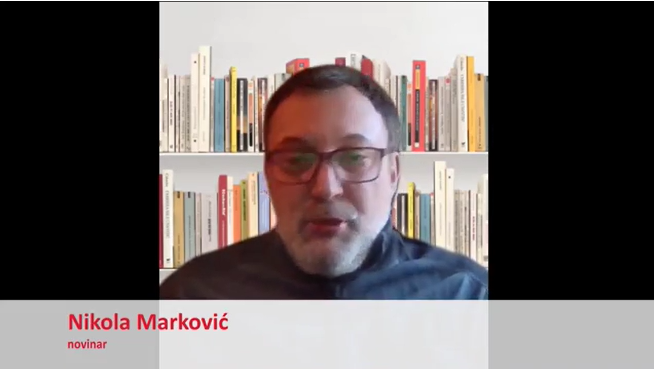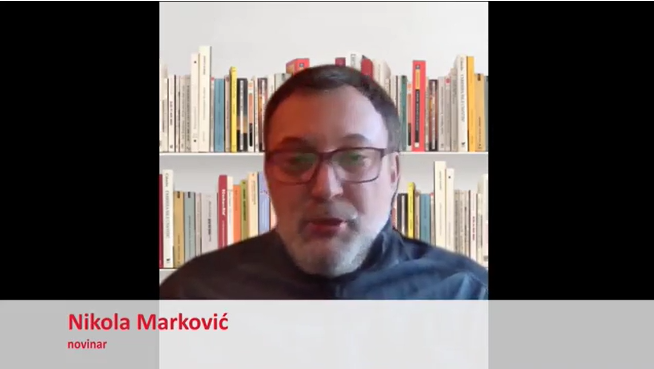 The media should align their editorial policies with the code of journalists
Lawsuits and penalties do not make the media better, and can only lead to a certain type of censorship or self-censorship, said longtime journalist Nikola Markovic, stating that the media, regardless of all differences, should harmonize their editorial policies with the code of journalists.
Markovic said that any society that is full of lawsuits against journalists restricts media freedoms and points to a degree of misunderstanding and intolerance.
Of course, as he stated, among these lawsuits there are also those that are justified, because there are journalists who work and report unethically, which is why it is important to see the structure of lawsuits against journalists.
"If the dominant number of lawsuits is from citizens, who are not public figures and are not obliged to have a higher degree of tolerance towards media reporting, then the media community should be concerned," Markovic said.
However, he explained, if the lawsuits are predominantly from political or other public figures, which is mostly the case in Montenegro, then we can still talk about a society that has a limited degree of media freedom.
Speaking about the lawsuits he faced during his long career in the newspaper Dan, Markovic said that two phases must be distinguished here – until the abolition of defamation as a criminal offense, and after its abolition.
As he stated, as far as his experience and the media in which he worked were concerned, the lawsuits mostly came from politicians, their relatives or business partners, godparents and friends.
"So, from those who, according to all international conventions, according to the experience of the European Court of Human Rights, should have a greater sensitivity when it comes to media coverage of them," Markovic added.
According to him, numerous lawsuits ended in high fines amounting to EUR 30,000 each.
"As for the total amount, I could not say exactly, but I know that the total compensation claims in Dan reached one million EUR," Markovic said.
He said that there were situations where public figures sued the media, even though they raised relevant social issues.
Markovic cited Telecom as an example, where the sister of President Ana Kolarevic, now Djukanovic, sued Dan, as well as other media, for writing about that privatization, "although it has been indisputably established that her name is mentioned in US government documents, in the context in which the media in Montenegro reported on it ".
"And here we have a situation where the media were punished for that, and then those verdicts were overturned, so we are suing and judging again. So, the court practice in Montenegro, when it comes to the media, is quite bad, "said Markovic.
He added that in recent years, although only in hints and modestly, court practices from European Union countries have begun to be applied, but, as he said, that is not yet at the level it should be.
Asked to assess the level of independent, responsible and professional journalism in Montenegro, Markovic stressed that not all media can be viewed from one angle.
"When it comes to traditional media, I mean daily newspapers, radio stations, television with a national frequency, agencies like yours, I think there is a correct level of media literacy and adherence to the ethical norms of our profession," said Markovic.
He assessed that, when it comes to those media, the situation is much better than in some countries in the region.
"I am also happy that the traditional media in Montenegro, regardless of different editorial policies, have managed to save themselves from the media sediment coming from the region," Markovic added.
However, he warned that not enough attention is paid to the fact that new types of media are developing with the technological development of human society.
"Whether we want to admit it or not, social networks are also a kind of media, regardless of how they are registered. The biggest media pollution, both in terms of hate speech and everything else, comes from social networks, "Markovic believes.
According to him, a special problem is that social networks are not legally defined, and that this legal gap allows everything to be written about everyone.
Markovic reminded that, as a member of the Working Group for drafting the law on media, he proposed to the previous Government that it be legally regulated.
"Certainly we, as a small country, cannot influence how Facebook or Twitter will function, but we can regulate the behavior of people from our country, from IP addresses that come from our society. Of course, care should be taken not to cross the border, so that it is an obstacle to freedom of speech, "he said.
Markovic said that he expects the new government to regulate the issue of that part of the media community in a correct and professional way, with the help of international experts.
"The fact that we pretend that social networks are not part of the media community does not solve the problem, but only deepens it," he warned.
When asked how much, according to him, the media themselves, ie journalists, with their unprofessionalism and violation of the journalistic code, influence the occurrence and number of lawsuits, he answered that it is possible to talk about that, but, as he stated, such lawsuits are not dominant and referential.
"We need to talk about the fact that public figures must have a higher threshold of tolerance and that they do not file lawsuits against the media. And, of course, every citizen whose rights are endangered by the unprofessional conduct of any media, should be encouraged to ask for their rights guaranteed by law, "said Markovic.
He believes that the problem will not be solved by lawsuits and penalties, and that this can only lead to a certain type of censorship or self-censorship.
"Punishments do not make the media better. I think that this is a generally accepted social dialogue, that we in the media community, regardless of all our differences, harmonize our editorial policies with the code of journalists and other rules of our profession, "concluded Markovic.
The video was created within the project "More facts less insults", which is implemented by the Trade Union of Media of Montenegro. One of the partners in this project is the MINA agency. This project was funded through a U.S. Embassy grant. The opinions, findings, and conclusions or recommendations expressed herein are those of the author(s) and do not necessarily reflect those of the Department of State.