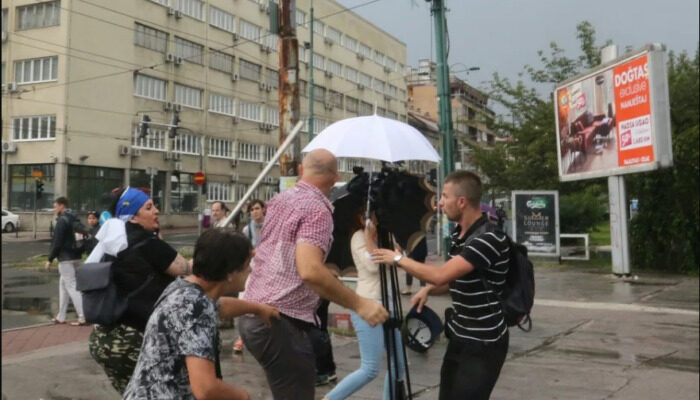 The Western Balkan's Regional Platform for Advocating Media Freedom and Journalists' Safety which represents more than 8000 members strongly condemns the physical attack on the journalists of Klix.ba and Al Jazeera Balkans that happened during the protests of demobilized former war fighters, held yesterday 26th of July in Sarajevo.
One of the demonstrators, Esma Turulja, attacked the reporter with a metal rod, after what the reporter suffered minor physical injuries. It was particularly worrying that afterwards she praised her primitive act, naming journalists of other media houses with whom she also intended to "deal with". A journalist from Al Jazeera Balkans was also attacked, after he tried to prevent the attack on his colleague from Klix.ba.
Day after the demonstrations, 27th of July, the portal Klix.ba received threats and insults via phone from a male who presented himself as one of the demonstrators.
As stated by Borka Rudic, the Secretary General of BHJA "BH Journalists Association strongly condemns this attack. Clearly, this was a planned attack on journalists, in order to stop disclosing events from protests. Therefore, we requests an urgent and efficient investigation on the attacks and a clear message to be sent to other demonstrators, but also to citizens of BIH. Violence against journalists is a criminal act that will be punished in accordance with existing laws."
The Regional Platform supports the efforts of BHJA in protecting media freedom and journalist's safety in BiH. We recall that this is the third attack on journalists reporting on demonstrations of demobilized former war fighters in 2018. Journalists from portal Bljesak were attacked on the state boarder between Croatia and BiH, Bijaca and the journalists Marko Divkovic, correspondent of BHRT and the president of BHJA was attacked in Tuzla. This is also the fourth physical attack on journalists from the beginning of this year in Bosnia and Herzegovina.
Besides representing a criminal offence, and violating media freedom in a democratic society, this attacks affects professional informing of public on the protests, as well as the requests for protecting rights and the position of demobilized former war fighters of Federation of BiH.
BHJA call on associations and organizations of demobilized war fighters to condemn and prevent violence against journalists reporting from the demonstrations and to enable safe and professional reporting from protest they organize.
Every attack on journalists is an attack on the public interest, democracy, and rights of all citizens.
Skopje – Belgrade – Podgorica – Pristina – Sarajevo – Zagreb, 27.07.2018.
BH Journalists Association
Trade Union of Media of Montenegro
Croatian Journalists' Association
Association of Journalists of Kosovo
Association of Journalists of Macedonia
Independent Journalists Association of Serbia