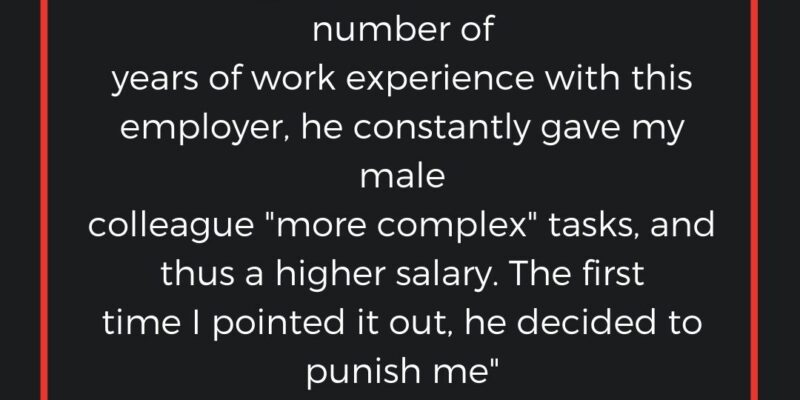 Women sue employers in the public and private sectors alike, but judge in their favor is more likely to happen when they sue a private employer than state institutions.
This has been shown by the ongoing monitoring of gender-based, work discrimination court cases conducted by the Trade Union of Media of Montenegro within the project "Equality through Justice: Cases of Discrimination against Women in Work", where 22 cases were analyzed. The focus of monitoring is on the basic courts in Podgorica, Kotor and Bijelo Polje, and the analyzed cases are from the period 2016-2020.
In 14 percent of the observed proceedings, a verdict has not yet been passed. Of the 86 percent of adjudicated cases, 63 percent did not end in favor of prosecutor, and 37 percent did.
In the public sector, the most frequently sued employers are ministries (36 percent), and educational and health institutions (18 percent each). In the private sector, the monitoring so far shows, the most frequently sued are the media (45 percent), employers in the field of tourism and catering (36 percent), and trade (18 percent).
In proceedings in which a public sector employer was sued, the courts ruled in favor of the prosecutor in 20 percent of cases, and in favor of the defendant in 80 percent of cases. On the other hand, the courts ruled in favor of the defendant private employer in 45 percent of cases.
In lawsuits, prosecutors most often point to mobbing (23 percent), unpaid overtime hours and inability to exercise vacation rights (18 percent), and disrespect for maternity rights (14 percent). Prosecutors are mostly highly educated (73 percent).
In 18 percent of the observed cases, women claimed to be directly discriminated against on the basis of gender. Their lawsuits allege that they received lower wages than men working in the same positions (50 percent), and that they were discriminated against because of marital status (25 percent) and motherhood (25 percent). In these cases, women argued that their employers felt that they could not perform their tasks equally well due to family and parental responsibilities.
Monitoring continues until April, when the final report will be presented.
In addition to observing court cases, TUMM also provides free legal aid.
The project is part of a broader action "Promoting women's labor rights" led by Kosovo Women's network, implemented by six regional partner organizations from Albania, Bosnia and Herzegovina, Kosovo, Macedonia, Montenegro and Serbia, and funded by the European Union and the Swedish Agency for Cooperation and Development.