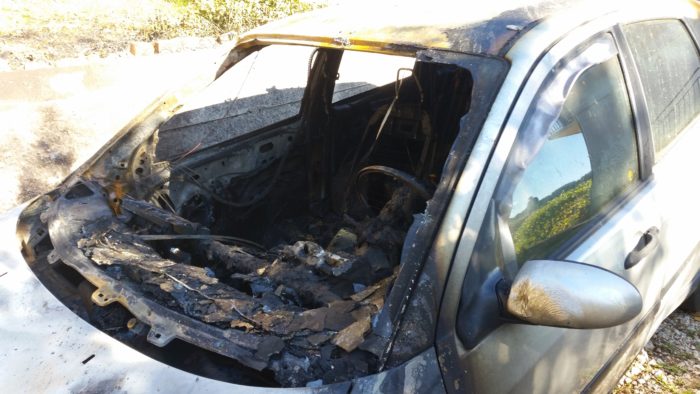 Council for Civilian Control of Police Operations has accepted the complaint submitted by the Trade Union of Media of Montenegro (SMCG) regarding the actions of police officers in the case of journalist Miroslav Drobnjak, correspondent of Večernje Novosti from Pljevlja, whose vehicle was burned on October 11, 2017.
"Having in mind that the Council addressed to the head of Pljevlja Security Center (SC), on three occasions with a request for relevant information for processing and making a decision on the case, and did not receive an answer, it was concluded that Pljevlja SC did not establish expected and necessary cooperation in accordance with the provision of Article 112 of the Law on Internal Affairs. Therefore, the Council assessed that such approach of Pljevlja SC contributed to the increased feeling of insecurity of journalist Miroslav Drobnjak. The Council tried to prevent it through its intensive and careful work on the case", states the Council's conclusion, signed by its President Zoran Čelebić.
In conclusion, it was noted also that "police affairs have not been performed with defined and expected professionalism, and have provided no results regarding the safety and property protection of journalist Miroslav Drobnjak, discovery of crime perpetrator and his/her processing to the competent state authorities".
In one of the Council's requests, sent to Pljevlja Security Center, it was noted that it was unacceptable "that due to the absence of the necessary and expected sensibility in the treatment by police officers, citizen Drobnjak, who performs a socially responsible work, is exposed to additional pressures and threats. He faces possible prosecution only because he cooperated with the police and assisted it to fulfill its legal function with information".
Drobnjak's car were burned in October, a month later an expert gave the opinion that the fire was intentionally caused – car was sprinkled with gasoline and set on fire. Pljevlja state prosecutor Božidarka Gačević, in late December, informed SMCG that the action was qualified as the offense -destruction and damage of someone's property- which is not prosecuted ex officio. Drobnjak was notified about that decision in the mid-January. He was, for this case, interrogated several times in Pljevlja police station. He was put on polygraph test on one occasion. All members of his family were questioned. The police has not resolved this case to date.