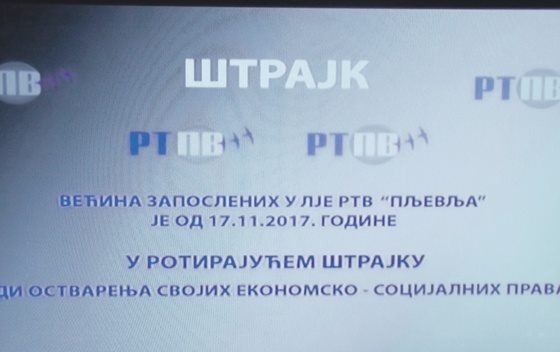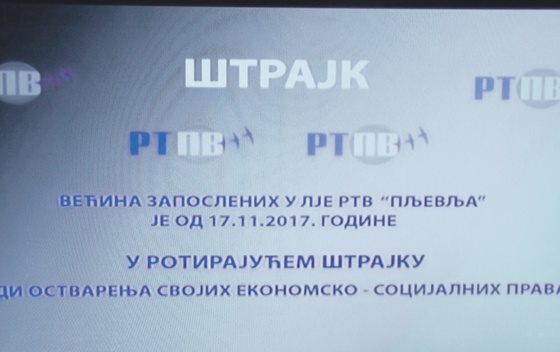 On the occasion of the strike of the majority of employees in RTV Pljevlja, the Union of Free Trade Unions of Montenegro and the Trade Union of Media of Montenegro appeal to management of Pljevlja Municipality to urgently start to deal with problems and protection of employees and their families' existence.
Namely, it is unbelievable that employees of the local public broadcaster Radio Television Pljevlja, whose founder is Pljevlja Municipality, have not been paid five salaries, opposite to their colleagues employed in municipal bodies and institutions who received salaries regularly. Therefore, the municipal management must stop to ignore the situation and problems which RTV Pljevlja faces with and whose employees have been striking already 24th day, producing only mandatory program required for the minimum working process.
We especially call upon President of Pljevlja Municipality, Mr. Mirko Dačić, to fulfill his promise given to the President of Montenegro, Mr. Filip Vujanović who announced that Municipal President told him that he is open for establishing good communication and overcoming the problem.
We remind that President Vujanović, during his visit, on the occasion of the Day of Pljevlja Municipality, November 20, 2017, appealed to him to "establish good communication and overcome problems in RTV Pljevlja". President Vujanović also emphasized the importance of local media and his opinion that local media is extremely valuable, highly watched and listened, and that it is important to announce the primary interest of citizens through the local media.
Therefore, we demand from municipality to end discrimination of RTV Pljevlja employees and to establish social dialogue with the Strike Committee in order to prevent the announced radicalization of the strike.
Secretary General,
Srđa Keković
President of Trade Union of Media of Montenegro,
Marijana Camović