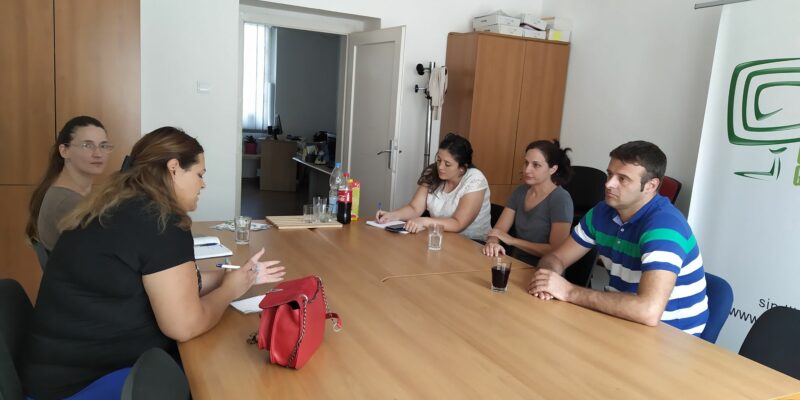 Represenatives of the Trade Union of Media of Montenegro met with NGO Mladiinfo Montenegro
Indifference among youth journalists and students of journalism, as well as financial unsustainability of the portal are the bigest problems that the Nongovernmental organization Mladiinfo Montenegro is facing. This was said at the meeting with the representatives of the Trade Union of Media of Montenegro.
Represenatives of the NGO Mladiinfo Montenegro, who have two portals – Mladi Niksic and Mladi Berane, visited the Trade Union of Media of Montenegro, presented what their organization is doing and were introduced to the activities of TUMM.
Milica Zugic and Jelena Maras,who represent this NGO at meeting, explained that the NGO Mladiinfo Montenegro has three programs: information and media, education and increase of young people's employability, youth politics, volunteerism and active participation of youth.
In order to inform as many young people as possible about available opportunities for them, they created the website www.mladiinfo.me, where competitions for scholarships, practices, training calls are published on a daily basis. In addition, there are two local info portals www.mladiniksica.me and www.mladiberana.me , "which are the place where young people from these two municipalities can be informed about news that are exclusively related to Niksic and Berane".
They have a lote of work, but they have notworkers, said Milica Zugic the President of the NGO Mladi info.
"Sustainability is difficult to establish, but we are trying through different programs", said Zugic, adding that sometimes the quality of the people who apply for the job is not good enough, and most part of program they use for training of human resources.
Radomir Krackov Vice President of the Trade Union of Media of Montenegro, Kristina Cetkovic the member of Main board and Bojana Lakovic Konatar project assistent represented the Trade Union of Media of Montengro on this meeting.
The meeting is the part of the project "Digital Media Organising Campaign", with is implemented with suport of International Federation of Journalists (IFJ). The goal of the project is to strengthen digital media in Montenegro and the union organizing among digital workers.