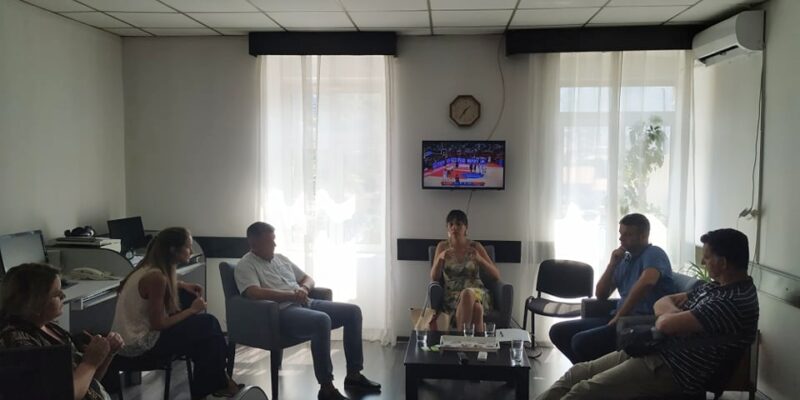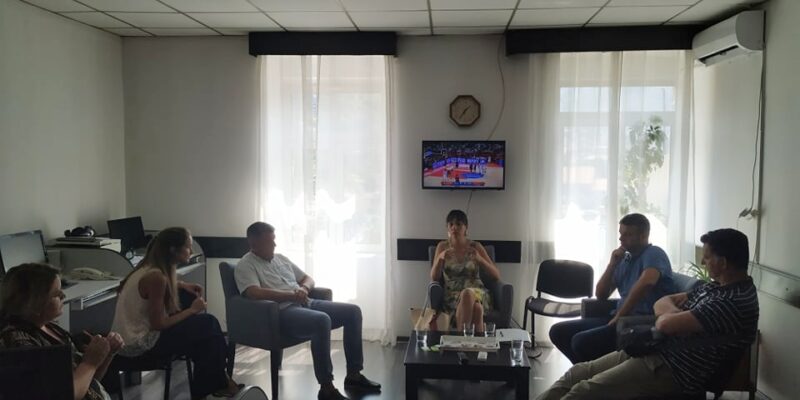 Radio Kotor is one of the few stable local media
Representatives of the Trade Union of Media of Montenegro (SMCG) continued their visits to local media and on that occasion visited employees of Local Public Broadcaster Radio Kotor. Although established in 1987, Radio Kotor belongs to a small number of stable local media in Montenegro, so employees are not late in earnings and don't face problems like most of their colleagues, especially from the local media in the north.
Representatives of SMCG – President Marijana Camovic, Vice President Radomir Kračkovic, Member of the Main Board Zeljko Komnenovic and associate Bojana Lakovic Konatar visited employees of that media.
A member of the SMCG Main Board, Zeljko Komnenovic, said that after the Union of Information, Graphic and Publishing Activities and the SMCG signed a co-operation agreement, Radio Tivat, which he was president, decided to join the Trade Union of Media of Montenegro. He urged colleagues from Kotor Radio to follow their example.
"The reason for our visit is the desire to make Radio Kotor part of this union family. When there are regular circumstances, the union does not need anyone, but when it is extraordinary then everyone needs it. That is why it is very important to be part of a branch union", he said.
The visit was an opportunity for the employees of Kotor Radio to get information about the activities of the Union, as well as plans for the coming period.
SMCG President Marijana Camovic informed employees about the participation of the Trade Union in working groups for changes to media laws, in particular the Law on Electronic Media and the Law on Media. These documents, if adopted in their existing form, would significantly improve the position of employees as well as the status of local media, since they would be provided with more stable funding.
She emphasized that in the past six years, since the union has establiched, we have been able to position ourselves and that, because of our participation in various projects, we have been an "atypical union".
"We are slowly changing the situation in the media, and when there are more of us, changes will be easier to do", she said.
SMCG Vice-President Radomir Krakkovic said that union representatives had great difficulty in advocating for some changes to media laws because they did not were in accordance with interests of different structures. He reminded employees that SMCG members are entitled to free legal aid, among other benefits, and invited them to visit the website www.sindikatmedija.me which lists all benefits for members.
According to the employees, members of the Trade Union of Radio Kotor are expected to have a Assembly at which new management will be elected and at which they will decide what their next steps are, ie whether they will join the Trade Union of Media of Montenegro.
The visits are part of the "Union to Union – Digital Media Organizing Campaign 2019", which is being implemented by the Trade Union of Media of Montenegro with the support of the International Federation of Journalists (IFJ).