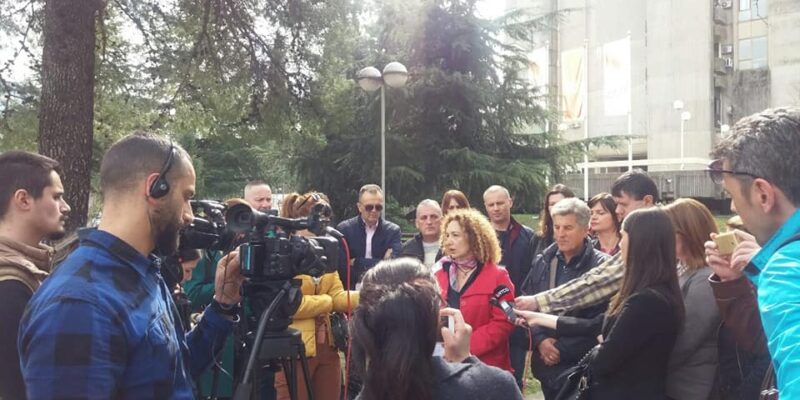 Unnaceptable attitude towards trade union and employees
The Trade Union of Radio and television of Montenegro (RTCG) employees demands from the director general, Bozidar Sundic, to sign a harmonized Collective Agreement of Public Broadcaster Service (PBS) within 15 days, said the president of this trade union, Jadranka Drobnjak.
At today's press conference in front of the RTCG, Drobnjak explained that they agreed to the minimum, which is at the margin of the existence of the majority of workers in that media house.
"However, the director general now asks us to sign the unilaterally modified Collective Agreement. In that document coefficients that determine the level of salaries have been reduced, which is why we are deceived, threatened, and existential uncertainty becomes even more pronounced", Drobnjak said adding that the new version is in only in favour of the management and "narrower circle around it".
According to her, such attitude towards employees, representative trade union and social dialogue is completely unacceptable to them.
Drobnjak said that employees are waiting for the collective agreement from 2016, and that it was finally agreed in October.
"In October last year, during the negotiations with the director general and the other trade union, we came to an end, because Sundic said that he will no longer talk to us about the collective agreement and that this harmonized collective agreement is its finishing version", Drobnjak said.
As she stated, given that the financial situation of the Public Broadcaster Service was harmonized with the collective agreement, they expected that the document would be passed through a regular procedure in the ministries of finance and culture and that it would be returned for signing.
Drobnjak points out that employees in the PBS, humiliated by personal income and exposed to various pressures, remain professional, loyal to both the media and the citizens who pay them. As she said, the budget is burdening the mistakes of the Council and management, as well as the uncontrolled hiring of people for enormous fees. All this is a burden that only affects employees.
"It is more than a clear interest of the employees to sign the Collective Agreement because even a modest improvement in the socio-economic position means a lot, and with these salaries they support themselves and their families. All this Council of the RTCG watches peacefully", Drobnjak concluded.