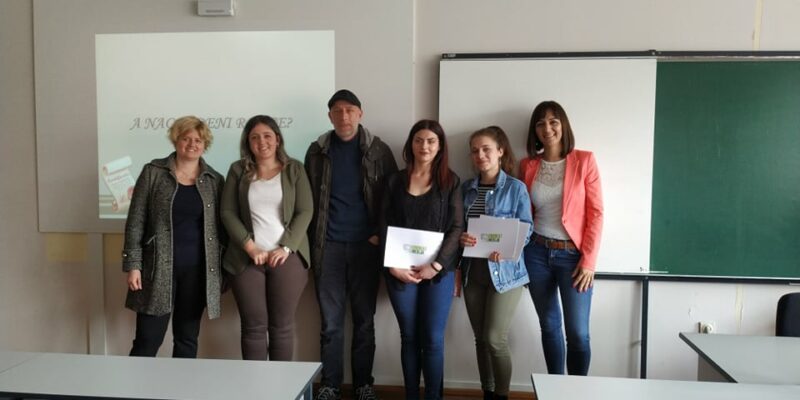 Competition for the best story about working conditions in the media completed
Works of students of the Faculty of Political Science (FPN) Zeljka Zvicer, Teodora Krivokapic and Natasa Milaš were awarded as best in a competition for the best story about working conditions in media, which was announced by the European Federation of Journalists (EFJ) and Trade Union of Media of Montenegro (SMCG). Yesterday, at the Faculty of Political Science, awards were presented to the students by representatives of the Trade Union.
From the total of six works that were submitted to the SMCG from January 23 to March 1, the best were video from a fourth-year student, Nataša Milaš and Teodora Krivokapić, and the article of the student of the first year of journalism Željka Zvicer. The best works will be awarded with a 200 euros cash prize and published on the SMCG website.
The decision on the winner of the competition for the best student story was made by a three-member jury consisting of the president of the jury, a journalist and member of the Main Board of SMCG Peđa Nikolić, SMCG president Marijana Camović and associate at the projects Bojana Laković-Konatar.
President of the jury, Predrag Nikolic, told the students that it was not easy to select the best work, but that creativity and a great number of sources in award-winning works were judged. He also said that it is commendable that students accurately and accurately locate and report problems on the Montenegrin media scene.
"It is noticeable that you have a great enthusiasm to engage in this profession, which you will definitely need when you start to work, because it will often be the only motive that will persuade you to remain in this profession", Nikolic said.
President of SMCG, Marijana Camović said that it would be nice if this competition becomes a tradition and organizes every year.
"This depends primarily on the European Federation of Journalists, their finances and the way in which they will manage to sustain this project. The project has been going on for several years, and this is the first time that this segment has been added. We will see what reaction will be in other countries, but I hope there will be room to make this a tradition", Camovic concluded.