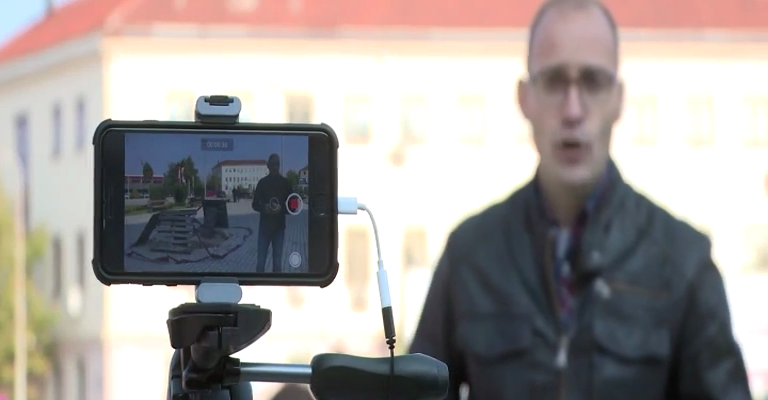 Darko Bulatović, journalist at RTCG
When, more than a year ago, he received a proposal from the editorial office of the Television of Montenegro to start dealing with mobile journalism, journalist of that media station, Darko Bulatovic, was suspicious. Bulatovic, who is a correspondent of the Public Service from Niksic, says that it was unknown to him that he could make TV report by the phone.
"At that moment, this trend has already been established in the world in media outlets such as the BBC, CNN, Deutsche Welle. I began to explore and see exceptional high-quality reports, live streaming, and recording, which were only done with the phone and tripod. Everything was a challenge for me and I decided to start dealing with mobile journalism", Bulatovic said, adding that this type of journalism is also suitable for making research stories.
As he said, the start was difficult, with many problems on the ground. Although he had many years of working experience for television, he was always next to the camera, which was managed by a cameraman.
"Somehow, I have previously participated in contributing to the recording because I, like any television reporter, have suggested some cadre, the situation that the cameraman should record. Now I had to do it all by myself", he explained.
According to him, after a while everything has come to its place. He mastered that and realized that the phone offers a large number of applications for editing, as well as the ability to use accessories, microphones and tripods that are necessary for making attachments. According to him, earlier they needed a journalist, a cameraman and an editor to make an attachment, while today he is doing all this alone.
In addition to faster and more efficient work and easier organization, especially correspondence networks of the media, as the main advantages of this business, Bulatovic points out that mobile journalism has its own shortcomings. It is also a flaw, among other things, that there is no possibility of replaying the recording.
"When in the field, a cameraman and a journalist, they communicate, so if one's missing something, the other warn him. Now, however, you have the opportunity to record something once, without reprisal, so there may be a failure, "said Darko.
Bulatovic believes that television stations have to have mobile journalists in their newsrooms, who use the phone as the basic tool of work. He explains that, due to the rapid pace of life, people are now watching the media on the go, and they do not pay attention to the quality of the frame and the picture.
"Mobile journalism brings what the current information system requires: quick information and image. Some portals have recognized this, and they themselves make to short video formats. If you are on the task and report to the portal, why not add a video and make a package with the articles", concluded Bulatovic.