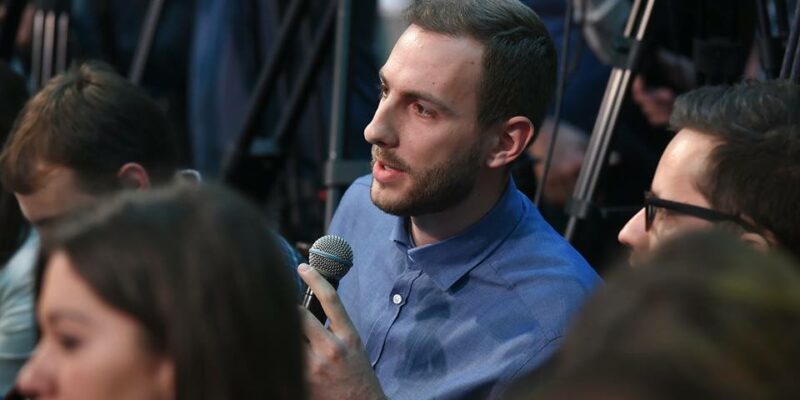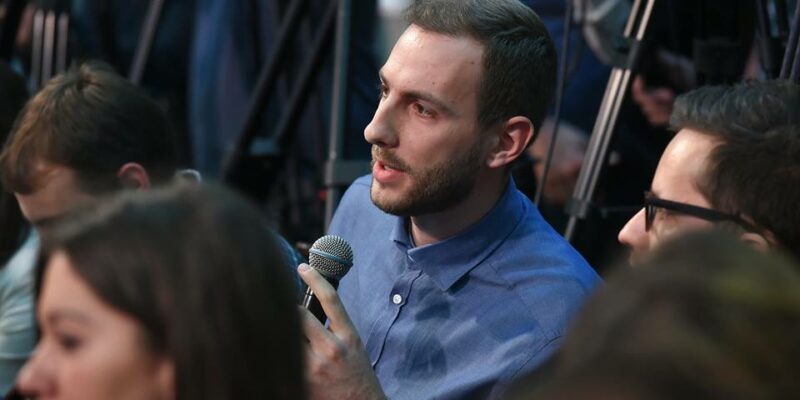 Danilo Ajković, journalist at FOS media 
In order to achieve success and engage in investigative journalism, there is no need for a major editorial and numerous resources, according to a young journalist from the Fos Media portal, Danilo Ajkovic. Danilo, who has been engaged in this media since its foundation (at the beginning of 2017), won only three awards for his work in 2017 and 2018: Annual Prize of the Association of Journalists of Montenegro for 2017, as well as two awards for research stories awarded by the Center for Civic Education in November, and the Network for the Promotion of the Non-Governmental Sector (MANS) in December 2018.
In journalism, which he always wanted to deal with, he quickly positioned himself, but found that he entered this business when he least expected it.
"I have been following news programs since I was a little. When I was 16 years old, I graduated from a journalism school where I had the opportunity to try out cameras and take the exam in front of editors and directors of the Montenegrin media. I got an "A" and I recently looked at that video that I still keep. It was an interesting retrospective from a distance of some 13 years", said Danilo, who is a lawyer by profession.
In the meantime, he dealt with other jobs that enabled him to acquire narrow knowledge in the field of constitutional law, functioning of the judicial system and the highest judicial bodies, respect for human rights in closed institutions, communication with the media and work with children. Also, at the time he received an offer for working engagement in the Fos Media portal, he had another job he was pleased with.
"Nevertheless, this was a new story. Through the portal, faster than through any other media, you are distributing information, which is an advantage over the so-called traditional media, because today we are all connected to their mobile phones", Ajkovic said.
According to him, the biggest drawback, and at the same time the advantage of the portal is speed. Journalists of the portal, on the one hand, report live at any time and transmit information about the event that happens at that moment. But, he explains, that it carries a huge responsibility as well as the danger of possible error.
"We often do not have time to check, and the verification of information is necessary. The probability of a mistake will increase if it is about striking news, and in Montenegro you have at least one shocking news not on a monthly or a weekly basis, but at a daily level. This requires journalists who can get accurate information at a given moment, not to transmit the information in a distorted manner and to provide video and image with all that, "he explained. Danilo points out that this requires a team of people to rely on, so that the work is done in a quality way.
As he himself acknowledges, due to everyday events on the socio-political scene, journalists have less and less time to devote themselves to serious research stories. Even when they find it, and no matter how important the story is, because of the hustle and bustle of life, once these stories are missed out by the citizens. That is precisely why, he points out, the rewards he got is important.
"I see the greatest significance of recognition in the fact that the topic is re-updated and there is pressure for the public to examine a particular question or to educate citizens more and to inform them in order to be more aware of their rights. In addition, when you are a beginner in a particular profession, awards give you a breeze in the back of the projects that are in front of you, "Ajkovic emphasized.