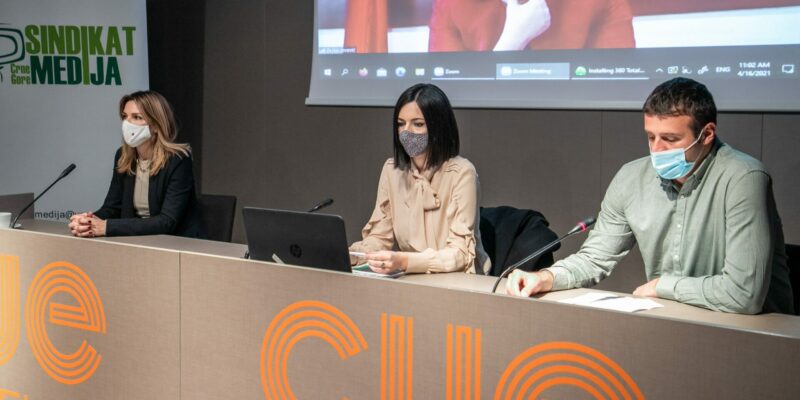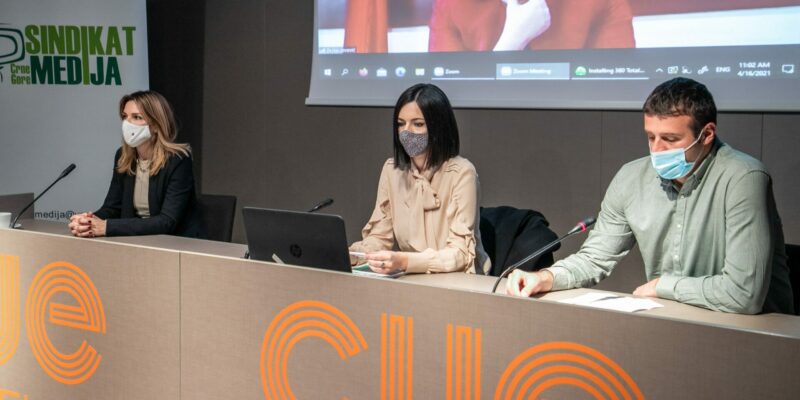 Trade Union of Media of Montenegro presented  the main results of the project "Equality through Justice: Cases of Discrimination against Women in Work" on April 16, 2021. During the project, free legal aid was provided in six specific cases, dozens of tips were given by telephone, 29 court cases of discrimination against women at work were registered, two interviews were published, and one court case was forwarded to donors interested in providing additional legal assistance.
The project started in January 2020. It is funded by the European Union and co-financed by the Swedish Agency for Cooperation and Development.
The main results of the project will be found in the final publication which will be sent to all addresses of organizations and individuals dealing with protection against discrimination at work.
Of the 29 registered court cases, 22 have been adjudicated and seven are active. Eighteen cases were brought before the Basic Court in Podgorica, five before the Basic Court in Kotor, and two each in the Basic Courts in Bijelo Polje, Kolašin and Nikšić. The cases lasted the shortest in the Basic Court in Bijelo Polje – an average of a year. The case before the Basic Court in Podgorica lasted the longest – four years. We perceived the fear of a long and difficult (psychologically and financially) procedure as one of the possible causes of the small number of reported cases.
Women are more often judged when they sue private sector employers. This data is directly related to the perception of private individuals as employers who respect labor rights to a lesser extent than state / public institutions. Basic courts more often rule in favor of employers (in 59 percent of cases).
In their lawsuits, the plaintiffs mainly sought material compensation for discrimination at work, payment of the unpaid part of salaries and wage compensation, return to work or assignment to a job in accordance with abilities and education, transformation of the employment contract, and provision of appropriate conditions. work.
In nine cases, an appeal was filed with the High Court. Prosecutors more often than employers appeal the decisions of the basic courts, but their appeals are also more often rejected. In two cases, the plaintiffs requested a review by the Supreme Court, and both times the review was rejected as unfounded.
Through monitoring, we noticed that each case was decided by different judges, from which we concluded that there is no specialization of judges for special types of cases. In all cases, the plaintiffs had representatives / lawyers. In only one case was a group of women filed a lawsuit. We also observed that most plaintiffs are highly educated or women with longer work experience.
Determining the existence of discrimination on the grounds of gender is cited as a claim in only two of the 29 cases analyzed; in other cases this type of discrimination is not listed, but the causes of discrimination may be related to gender (discrimination due to maternity, marital or family status).
In lawsuits, women who suffer discrimination at work often cite mental pain, anxiety, loss of motivation and concentration, hypersensitivity, and the like. Our observers attended hearings at which forensic medical experts testified and noted, as one of the potential problems, that emotional anxiety and the like is difficult to prove.
Summarizing the observations made during the provision of legal aid, the results of court case monitoring and survey research, assessments of institutions dealing with protection of citizens from discrimination at work, and assessments obtained by interviewing or in direct contact with discriminated women, we concluded that gender -founded discrimination at work is rarely reported to the competent institutions and is rarely mentioned in lawsuits before the courts. Fear of dismissal is one of the most common causes of non-reporting of discrimination at work. Particularly vulnerable categories are mothers (especially single mothers and mothers of children with special developmental needs).
The basis for research on gender-based discrimination at work is almost non-existent – research is scarce, and courts and other institutions do not have a register that separates only this type of discrimination. The SMCG appeals to the courts, the Agency for the Peaceful Settlement of Labor Disputes and the Labor Inspectorate to consider establishing registers / databases where cases of discrimination would be sorted by type. This would make it much easier to monitor these cases and then adopt strategies for action.
Based on the results of the research, the SMCG has compiled a list of recommendations to facilitate the perception of gender-based discrimination at work and to raise awareness of the problems of women who suffer discrimination at work.