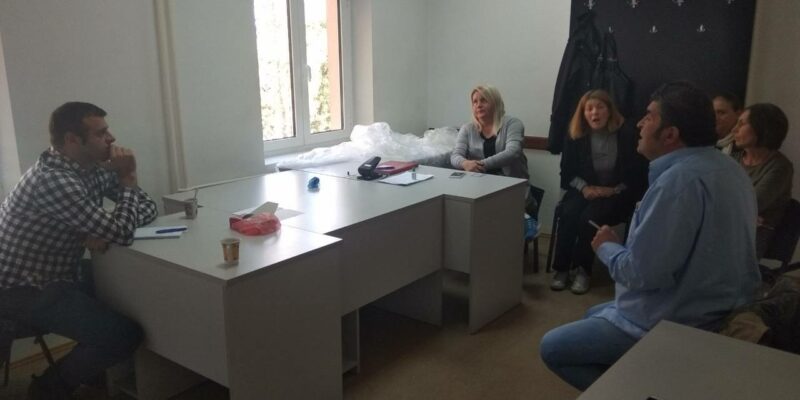 The representatives of the Trade Union of Media of Montenegro visited RTV Pljevlja
Radio Television of Pljevlja, which is in the process of reconstruction after the fire which devastated this media in May, should re-start broadcasting later this year. It was announced during the visit of the representatives of the Trade Union of Media od Montenegro to this media house.
After the fire, the Municipality of Pljevlja has provided a new place for the work of that local public broadcaster in which employees have been relocated. The reconstruction funded by the municipality is undergoing and local authorities have promised the new equipment. Meanwhile, a part of it has been already provided by other TV stations in Montenegro as well as other individuals in recent months. SMCG representatives expressed satisfaction with the renewal of Television Pljevlja and wished quick release in the air.
Employees of RTV Pljevlja said that despite the difficult situation they work regularly and receive a pay. Currently, they have been owed only 2 salaries from previous years. The problem, however, is a large debt for taxes and contributions that exceeded 600 000 EUR because it was not paid for 9 years. Because of that, employees call upon the municipality to urgently do something as a founder of this local media because they are feared of possible bankruptcy.
Another big challenge may be inadequate amount that the municipality committed to the work of RTV Pljevlja, according to a three-year contract on financing the program. Employees believe that next year the scenario that they are not being paid salaries can repeat because RTV Pljevlja, just, will not have enough money in the budget. Therefore, it was agreed that, in coordination with SMCG, act jointly and request a meeting with the Mayor of Pljevlja Mirko Đačić. Employees have been informed that SMCG often said that the funding of local public broadcasters in Montenegro is not well regulated. Representatives of SMCG also announced that during the next year the Law on Electronic Media will be on Government's agenda and we will fight together to ensure stable financing of local broadcasters by submiting amendments to this law.
Employees of RTV Pljevlja have also announced the idea to launch the negotiations with the management on the adoption of a Collective Agreement. SMCG will provide them technical and other assistance.
Along with the process of reconstruction of RTV Pljevlja, the portal of this media was put into operation, currently employing 6 people, 5 of them journalists. The main problems in first months of work are technical because the website is still not fully installed.
The visit was organized within the project "Union to Union," which Trade Union of Media of Montenegro implemented in cooperation with the International Federation of Journalists. This year, the project is dedicated to digital media and SMCG will do the first survey on working conditions in digital media – portals in Montenegro.