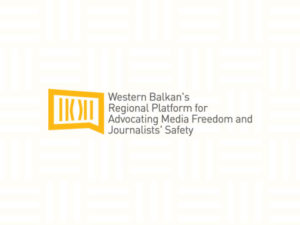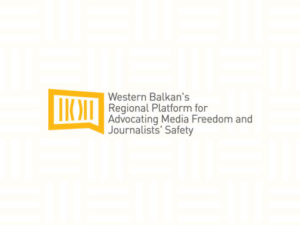 The Western Balkan's Regional Platform for Advocating Media Freedom and Journalists' Safety, which represents more than 8,000 members, strongly condemns the death threats to journalists and editors of Radio Sarajevo portal and to their family members, sent by a fan of the Sarajevo football club.
The incident happened after the Radio Sarajevo portal and another number of media in Bosnia and Herzegovina reported that a fan of this football club was arrested for five years in prison in Belarus in August this year, where he has been for a football match and when Belarusian police found cocaine with him.
Last night, a group of supporters of the Sarajevo Football Club came before the Radio Sarajevo editorial office, where the author of the article was harassed by that group, held hostage for more than two hours, and under threat of killing him and his family, demanded that he remove the article from the Radio Sarajevo web site. At the same time, they forced the journalist to call other media outlets in Bosnia and Herzegovina and demanded them for the immediate removal of the unlisted article.
"We consider this attack a brutal violation of the right to freedom of expression and endanger the safety of journalists and the editorial office of Radio Sarajevo, as well as the illicit conduct of violence by the fans group of Sarajevo Football Club over multiple media in BiH", said Boka Rudic, Secretary General of the BH Journalists Association. She welcomed the efforts of the Sarajevo Canton Police, who was prompt arrest of two attackers, but at the same time, Rudic strongly urged the police and the Prosecution Office must continue legal action to punish both of the attackers.
The Western Balkan's Regional Platform for Advocating Media Freedom and Journalists' Safety considers the inadmissibility of silence of the BiH Football Federation and the Sarajevo Football Club, and calls them to publicly condemn this act and take all measures against aggressive football fan groups or individuals. This is not the first time in Bosnia and Herzegovina that football fan groups have been harassed of journalists after their reports from sports events or after publishing critical articles about fan groups and their members.
We remind that every attack on a journalist is an attack on the public interest, democracy and human rights. The Platform will inform all European institutions of this incident, including the Union of European Football Associations (UEFA) and request their intervention to the last incident as well as on other cases of violence of media freedom and safety of journalists in Bosnia and Herzegovina and in other Western Balkans countries.
Skopje – Belgrade – Podgorica – Pristina – Sarajevo – Zagreb, 28.09.2019.
BH Journalists Association
Trade Union of Media of Montenegro
Croatian Journalists' Association
Association of Journalists of Kosovo
Association of Journalists of Macedonia
Independent Journalists Association of Serbia