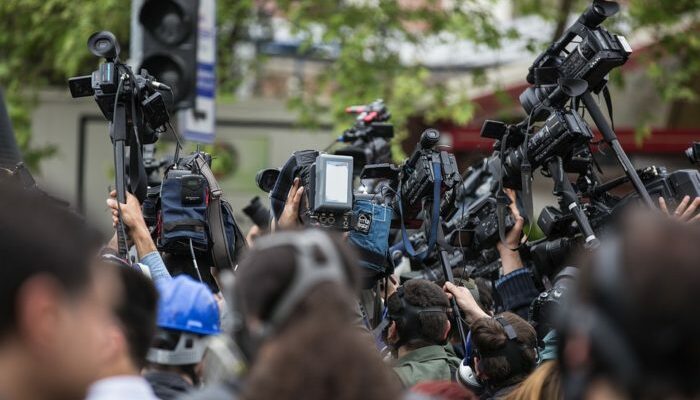 Two cameramen were physically assaulted by protesters, one journalist hit with the baton and police prohibited journalists from filming violence during street protests in Belgrade, Serbia.
On the evening of July, 7 citizens of Belgrade took to the street to protest against the way Serbian Government handles the Covid-19 pandemic. As clashes between protesters and the police escalated, minimum three incidents against journalists were recorded:
Two Tanjug News Agency cameramen were physically assaulted by protesters. A protester approached an Agency's cameraman asking why he was filming and tried to prevent him by grabbing his hand and then hitting him in the stomach. Second cameraman was attacked as protestors were fleeing from teargas. His camera was turned over and he was requested to hand over the footage. The protesters left when he refused to do so.
Plain clothes policemen attempted to stop TV N1 journalist Jelena Zoric journalist and cameraman Aleksandar Cvrkotic from recording police officers beating a protester in the park in front of the Serbian presidency
The police prevented Milica Bozinovic, Nova S portal journalist from aiding an injured man. Bozinovic tried to explain that she was on duty as a journalist, but a policeman hit her buttocks with a baton.
Videos of three incidents can be found online.
– Last night the police force used excessive force on citizens, some protesters were violent and in such an extreme environment journalists were attacked. We call on police to pay attention and protect media crews and our colleagues to wear press cards and avoid situations that could endanger their safety – said Zeljko Bodrozic, president of the Independent Journalists Association of Serbia (IJAS). Bodrozic expressed regrets that RTS, Serbia public service, failed to inform citizens of Serbia about the dramatic events that unfolded and added – I'd like to highlight media crews of TV N1, Al Jazeera Balkans, Nova porta, Danas daily and other professional media who courageously reported about the events providing timely and objective information about the protests to citizens of Serbia and the region.
SafeJournalists Network, representing more than 8,200 media professionals in the Western Balkans, condemns all violence against journalists and joins its member IJAS in its requests to the Serbian authorities. In accordance with its mandate, the police must secure a safe working environment for journalists and must determine who and why violated journalists' rights during the protests. It must determine whether the police powers were exceeded and if so, the persons responsible must be processed.
We also join IJAS in its call to journalists who report from protests to be visibly marked – their press IDs should be on a visible place and they must do whatever possible in the given circumstances to identify themselves to the police and citizens as journalists on duty.
Each attack on journalists is an attack on public interest, democracy and rights of all citizens.
Skopje – Belgrade – Podgorica – Pristina – Sarajevo – Zagreb, 08.07.2020
Association of Journalists of Kosovo
Association of Journalists of Macedonia
BH Journalists Association
Croatian Journalists' Association
Independent Journalists Association of Serbia
Trade Union of Media of Montenegro