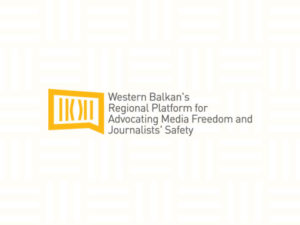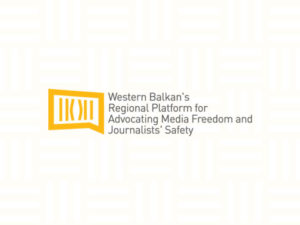 The Western Balkan's Regional Platform for Advocating Media Freedom and Journalists' Safety, which represents more than 8,200 members, strongly condemns detention of Tatjana Lazarevic, the editor and journalists of a Kossev portal by the Kosovo Police.
On Saturday, April 11th 2020, citing decision of Kosovo Government regarding restrictions of movement after 12:00 that does not apply to journalists on duty and despite being showed two press cards the police took Lazarevic into police station where she was questioned and subsequently released. In a statement given to the Regional Platform Tatjana Lazarevic confirmed the detention and explained that she was on her way to Zvecan Health Center, as had been before, to do a story.
– The police cars went by me three times slowly before one stopped. I though, we all know each other, it's a small town. I presented two of my press cards, as I had done before. But this time, the police decided to detain me despite the fact that I didn't violate any of the health measures introduced – said Tatjana Lazarevic – What worries me is that an online media journalist contacted me to check the story as it was happening.
Kossev announced that photos of Lazarevic discussion with the police just before the detention were published on the same online media soon after. Lazarevic claims that there was no one visible on the road apart from herself and the police meaning the photographer was hiding. This added to the Kossev suspicion that the incident is yet another pressure on this portal. Days earlier, Kossev was criticised for streaming live press conference related to pandemic COVID-19 and complained it is being discriminated against and not informed about the time and place of the conferences.
– Preventing journalists form doing their job by arbitrary police stopping, detention or obstructing access to public events constitute a pressure, not only on their work but also on freedom of expression and right to be informed. This is also contrary to the Constitution and Kosovo laws, as well as international conventions on human rights – said President of the AJK Board, Gentiana Begolli Pustina – There is no decision or measure that restricts the movement of journalists at the time of COVID-19 and AJK already requested explanations from the competent authorities about this incident.
The Western Balkan's Regional Platform for Advocating Media Freedom and Journalists' Safety joins its member AJK in requesting immediate clarification of the incident and call upon Kosovo authorities the secure the right of journalists to work at the time of pandemic, including access to all relevant press conferences. At the same time, the Regional Platform calls on media professionals in Kosovo to continue their activities and follow imposed measures regarding health safety and free movement. Journalists, cameramen, photojournalists and media workers must protect themselves accordingly and carry their ID-s all the time.
Skopje – Belgrade – Podgorica – Pristina – Sarajevo – Zagreb, April 12, 2020
BH Journalists Association
Trade Union of Media of Montenegro
Croatian Journalists' Association
Association of Journalists of Kosovo
Association of Journalists of Macedonia
Independent Journalists Association of Serbia