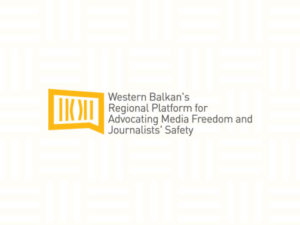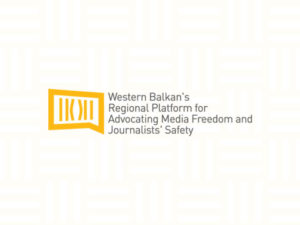 The Western Balkan's Regional Platform for Advocating Media Freedom and Journalists' Safety, which represents more than 8,200 members, strongly condemns the physical attacks on a Dalmacija Portal journalist Zivana Susak Zivkovic and an N1 television cameraman Ivana Sivro, in Sirobuja, a suburb of Split, Croatia.
Both incidents took place on April 12 during the morning Easter Mass at the church in Sirobuja. Zivana Susak Zivkovic was attacked while filming gathering of believers in front of the church. First she was roughly pushed to the church's front door and then, while live streaming the event someone took her cell phone and destroyed it. In the turmoil, her hand was heavily pinned by the church door. Susak Zivkovic reported the case to the police and sought medical assistance. Shortly afterwards, in an incident also recorded by a camera, N1 cameraman Ivana Sivro was attacked in front of the same church. The footage shows a man driving his vehicle toward a cameraman, slowing down and hitting her camera with his hand. Two men were arrested in relation to these incidents.
It is important to note that just before these attacks took place the pastor of the Sirobuja church, Josip Delas, had insulted the journalists, calling the "devil upon them". Such animosity was reflected by the people gathered at the Mass.
– Why there was no police in front of the church? All gatherings are banned so why is the law applied selectively? It is hard to believe that the Split police didn't know about the Easter Mass in the Sirobuja church. Had they been there, these incidents would not have happened – said Hrvoje Zovko, President of the Croatian Journalist Association, and added – Although the attackers were arrested, Croatian Minister of Interior, Davor Božinović condemned the attack, and the Split-Makarska Archdiocese distanced itself from Delas actions, this is not enough. The government authorities must ensure journalists can do their job safely and unhindered.
The Western Balkan's Regional Platform for Advocating Media Freedom and Journalists' Safety considers attacks on Zivana Susak Zivkovic and Ivana Sivro a serious attack on the safety of journalists. It supports CJA's calls on the government officials to immediately condemn the attacks in Sirobuja and to properly sanction the perpetrators. It also urges upon the Catholic Church in Croatia to not only condemn and distance itself from Delas words, but also to call upon its leaders and followers to refrain from verbal and physical attack on journalists.
Regarding this two incidents, the Regional Platform will inform domestic and international organizations for the protecting the safety of journalists.
Skopje – Belgrade – Podgorica – Pristina – Sarajevo – Zagreb, 13.04.2020
BH Journalists Association
Trade Union of Media of Montenegro
Croatian Journalists' Association
Association of Journalists of Kosovo
Association of Journalists of Macedonia
Independent Journalists Association of Serbia