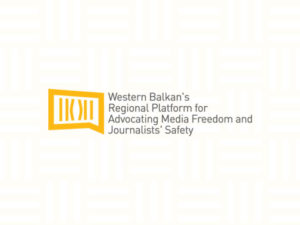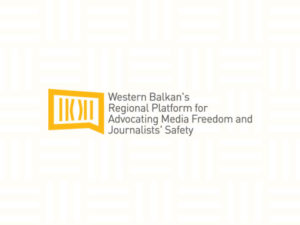 The Western Balkan's Regional Platform for Advocating Media Freedom and Journalists' Safety, which represents more than 8,200 members, strongly condemns arrest and detention of Ana Lalic, journalist of nova.rs portal. Despite Lalic's subsequent release, we find this and attempts to limit free flow information by the Serbian government unacceptable violations of accepted standards of media freedoms even during the state of emergency.
On Wednesday, 01.04.2020, Ana Lalic was arrested at her home and ordered 48 hour detention. Her flat was thoroughly searched and her laptop and personal and business mobile phones confiscated. The reason for the detention is an article she published on the same day "Vojvodina Clinical Center at breaking point: No protection for nurses" featuring sources stating there is a "chronic shortage of basic equipment at the clinical center where staff are working under chaotic conditions during the pandemic". It was reported that the Vojvodina Clinical Center management filed a complaint against Lalic to the police accusing her of upsetting the public and damaging the reputation of the Center.
Lalic was released this morning; however the detention coincided with the adoption of a new set of measures that put government Crisis Headquarters in charge of obtaining, verification and dissemination of all information regarding the pandemic. Independent Journalists Association of Serbia (IJAS) warned that such legal act evokes censorship and its wording leaves space for prosecuting journalists and media who publish independent expert's comments about the measures imposed by the state under charges of spreading disinformation. This morning PM Brnabic announced that she will suggest withdrawing the new measure; however the previous limitations to media freedoms, such is the right of journalists to ask questions, remain.
– We are happy that Ana is out of detention. She is well, but we are sorry that she had to go through such treatment – dramatic arrest late at night, searching of her apartment and taking away her equipment. We support her decisiveness not to disclose sources at the Clinical Centre and are worried that they may be compromised since Lalic equipment was seized – said Zeljko Bodrozic, president of IJAS and added – PM Brnabic announced withdrawal of the new measures, but it is particularly worrying that she has done so upon the request of President Vucic and to avoid criticism from Harlem Desir, OSCE Representative on Freedom of the Media and Tanja Fajon, the Chair of the European Parliament Delegation to EU-Serbia Stabilisation and Association Parliamentary Committee. This implies PM Brnabic's complete lack of understanding of the role of media in a democracy and of the levels of Prime Minister's accountability. It is also quite scary and certainly has a chilling effect on professional journalists in Serbia.
The Regional Platform for Advocating Media Freedom and Journalists' Safety joins its member IJAS in condemnation of the recent actions by the government. It welcomes the release of Ana Lalic and withdrawal of the measures aimed at limiting free flow of information. It also expects Lalic's equipment to be returned to her as soon as possible and the sources, if disclosed, will not suffer any consequence. However, it strongly condemns the Serbian government approach to media and calls upon them to respect the Constitution of Republic of Serbia and its legislations and to restrain from using the state of emergency to limit media freedoms. This is in particularly important during health crisis such is COVID-19 pandemic during which professional reporting and holding governments accountable is crucial.
Skopje – Belgrade – Podgorica – Pristina – Sarajevo – Zagreb, April 2, 2020
BH Journalists Association
Trade Union of Media of Montenegro
Croatian Journalists' Association
Association of Journalists of Kosovo
Association of Journalists of Macedonia
Independent Journalists Association of Serbia