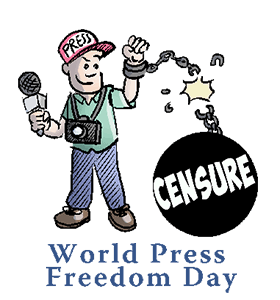 The World Press Freedom Day this year isn't a reason for celebration for the many employees in this field in Montenegro. Their economic situation has worsened compared with the last year, and in many local public broadcasters, employees get their salaries with several months of delay, and that is a practice that has been going on for years. These salaries in most of these media are miserable and, due to their delay, employees can't provide their families with basic living needs and they are on the verge of existence.
Due to their poor financial position, media employees are subject to pressures and are very prone to self-censorship. All this leads to a further decline in professional standards. Also, the sharp division of media and political coloring don't decrease, which does not make the future of the media scene in Montenegro any kind of happy.
As the European Commission (EC) Report on Montenegro again showed, there has been no progress in the freedom of the media, despite the declarative efforts of the authorities. For this reason, all media policy makers and the entire media community should be concerned. Employees in the media are, of course, most affected by this and they remain the most vulnerable category in the chain.
The state is still only formally advocating for dealing with cases of attacks on journalists, and the impression is that it is awaiting the most drastic cases to be outdated, which has already happened with some of them. It can be a powerful signal to everyone that they can attack journalists and go unpunished. The state has shown that it isn't able to compete for the safety of journalists and solve cases of attacks on them, as well as the case of the murder of Dusko Jovanovic.
Trade Union of Media of Montenegro will continue to advocate for the improvement of a bad state in Montenegrin journalism and to point out the problems. Through negotiations on the new Branch Collective Agreement, we expect that we will improve the working conditions of employees in the media. We hope that, with a series of new proposals, we will contribute to the changing of Law on media and other laws in this field which will start solving the accumulated problems. At the beginning of the year SMCG also proposed amendments to the Law on Electronic Media and we urge members of the Parliament to take them into consideration because they must act immediately to end the agony in numerous local public broadcasters and provide them with normal source funding.
There is no media freedom without the freedom of those who work in them. Until this is seriously understood, May 3rd wont be a reason for celebration.
MAIN BOARD OF SMCG