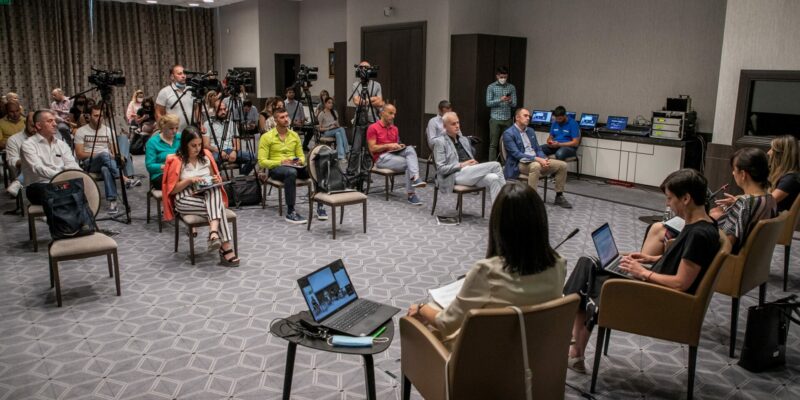 Journalists worked in difficult conditions last year, their security was threatened, and key cases of attacks on journalists are still unresolved.
This was concluded at the conference "Media Freedom: Yesterday, Today, Tomorrow" organized by the Trade Union of Media of Montenegro in partnership with the Civic Alliance, with the financial support of the European Commission, Balkan Trust for Democracy and the Embassy of the Kingdom of Norway in Belgrade.
Minister of Public Administration, Digital Society and Media, Tamara Srzentic, said that financial problems, inadequate and insufficient regulation, non-compliance with professional and ethical standards, media laws that require urgent changes, are just some of the problems of the media sector whose solutions, as she said, will all work together in the coming period. "You are burdened by poor socio-economic conditions, the salaries of media employees are still below the national average, the crisis has changed your working hours, overtime work is mostly unpaid, a large number of journalists do not have contracts for an indefinite period. Poor financial position of newsrooms that cannot invest in investigative journalism. That is why I invite you to organize as many as possible through the Trade Union of Media and other associations that deal with the media, and to articulate through them the problems and challenges that your profession faces every day", Srzentic said. She pointed out that the position of the Government is that no case of attack on journalists, their security and media property should be archived without a specific police, prosecutorial and court dismissal. "When we talk about concrete future actions and activities from our department, and in relation to solving the challenges we have identified, our focus is entirely on reforming media legislation, media strategy, as well as urgent activation of the existing Fund for Promotion Media Pluralism and Diversity. The reform of media legislation will place special emphasis on online media, which are more and more in Montenegro, and whose field of activity is not fully regulated, then on improving the protection of journalists' rights, their integrity, as well as sources", Srzentic explained.
First Secretary of the Embassy of the Kingdom of Norway, Stefan Almehagen Sandstad, believes that freedom of the media is very important, that civil society is very active and he hopes that it will remain so.
"The role of the media is stronger than before. They must enable citizens to recognize credible information. Many challenges are similar across borders. All journalists in all countries are at risk. It is very important that we spread democracy and continue the fight for media freedom. Discussion between all actors in society creates better conditions. Complete legislation must be well regulated and respected, and it is necessary to adopt best practices", Sandstad said.
Secretary General of the Independent Journalists' Association of Serbia, Tamara Filipovic Stevanovic, said that Serbia has shown that it is the leader in the region in terms of stifling media freedom.
"Our government has shown a strong intention to control the flow of information and has used the state of emergency to attack professional media. It is worrying that defamation campaigns against the media very often originate from people who perform public functions, and then descend to a lower level. In the previous year, we recorded an increase in online intimidation of journalists in all countries. In 2020, we are also recording an increase in threats to journalists", Filipović Stevanovic said.
She noted that public prosecutors continue to refrain from indictments in cases of threats to journalists.
"There is no progress in closing the most serious cases of attacks on journalists," Filipovic Stevanovic said.
President of the Trade Union of Media of Montenegro, Marijana Camovic Velickovic, said that the employees in the Montenegrin media did not feel abundant help from the state, and that "millions of euros that flowed into the media accounts a year ago passed by them".
"Where did at least 2.5 million euros go, as much as the state paid to the media last year? It is necessary to insist on increasing the transparency of spending that money. We asked, because we only consider it correct, for the state to oblige the media that receive help during the crown of the crisis not to fire employees", Camovic Velickovic said.
Since the beginning of the year, 12 attacks, threats, insults against journalists and other media workers have been registered in Montenegro, and, as she said, according to the data of the Ministry of Internal Affairs, there were 18 cases of attacks on journalists last year.
"When it comes to that record, we see as a problem that it is a record based on the profession of the victim of the attack, so whoever is a journalist goes to that register, although the case itself does not have to be related to his profession. When it comes to 2019, 37 lawsuits were filed for compensation of material damage due to violation of personal rights, and during 2020, 22 of them. Although the number of lawsuits remains large, final judgments indicate that many smaller amounts are awarded, and the media are most often sued by citizens", Camovic Velickovic said.
Researcher of the Trade Union of Media, Bojana Konatar, at the panel "Indicators of the level of media freedom and security of journalists", said that the big problem is that it is still unknown how many journalists there are in Montenegro.
 "We are still talking about imaginary people. The last survey conducted in 2014 counted 800 journalists, with 54 media outlets at the time. Today, there are about 200 media outlets, and we still mention the same number of journalists. The working conditions of journalists on portals are especially problematic," said Konatar.
She pointed out that censorship was very present during 2020, especially during the reporting on processions and elections.
"Montenegrin journalism is still maximally dedicated to reporting in the public interest, but we get silence when it tries to get data on how many media there are in Montenegro, how much these media employ journalists. It is generally estimated that journalists forgot investigative and analytical journalism during the last year, due to the increased volume of work and all the problems they have, but it is not surprising," said Konatar.
Researcher of the Association of BH Journalists, Maja Radevic, said that in Bosnia and Herzegovina, more than 88 percent of the media were affected by the negative economic consequences of the coronavirus pandemic, and thus the position of journalists in newsrooms was endangered.
 "Politicians have been very active, especially in the last 3-4 years in trying to control editorial policies and create media content. It is especially worrying that the public reputation of the media is being talked about less and less, and the impression is gained that numerous journalists, editors, and media owners have come to terms with political influences and pressures. The feeling of economic insecurity and concern for existence directly leads to censorship, self-censorship and selective publication of information", Radevic said.
During the last year, as she stated, 69 cases of violation of journalists' rights and media freedoms were recorded, and only 30 percent of cases before the courts ended in favor of journalists", said Radevic.
Croatian Journalists' Association researcher, Monika Kutri, said there were 12 attacks on journalists last year, and what is particularly worrying is that there are a lot of lawsuits against journalists and the media.
"Last year, the Croatian Journalists' Association recorded at least 924 lawsuits against journalists and media whose claims amount to around 10.5 million euros. These are enormous numbers. The assumption that Croatia is much more advanced when it comes to media freedom and the safety of journalists than other countries in the Balkans is incorrect. Whenever they scratch beneath the surface, a lot of negative and bad things can be found. In 2019, there were five attacks on journalists", Kutri said.
Vice-president of the Trade Union of Media of Montenegro, Radomir Krackovic, during the panel "Dialogue for better protection of journalists", said that the Law on Media was adopted last year, which brought good solutions, but also those about which there were various controversies.
"In our analysis, we mapped things that could be further supplemented. This primarily refers to the precise regulation of the media registration procedure, especially portals. Another thing that is very important is that it is necessary to more precisely define the criteria for allocating money from the Fund for Media Pluralism and Diversity. We have high expectations from the new Law on Audio-Visual Media Services, which should replace the previous Law on Electronic Media, primarily because, if the solutions that exist in the draft are adopted, it should significantly improve the position of local public broadcasters", said Krackovic.
Program director of the NGO Civic Alliance, Milan Radovic, pointed out that the conclusion is that judicial institutions encourage attacks and threats on journalists and that the right moment to measure progress is to process applications in a different way and that there is a moment of sanctions in preventing attacks on journalists.
 "Even when the procedure is initiated, the sanctions are extremely low. Three journalists were arrested last year for fake news and the Basic State Prosecutor's Office dismissed all three criminal charges. However, after that, the question of the responsibility of those who made the decisions to deprive journalists of their freedom should be raised", Radovic said.
He stated that the findings so far indicate that the portals do not publish or produce texts that contain hate speech towards vulnerable categories in society, but that problems appear in the comments.