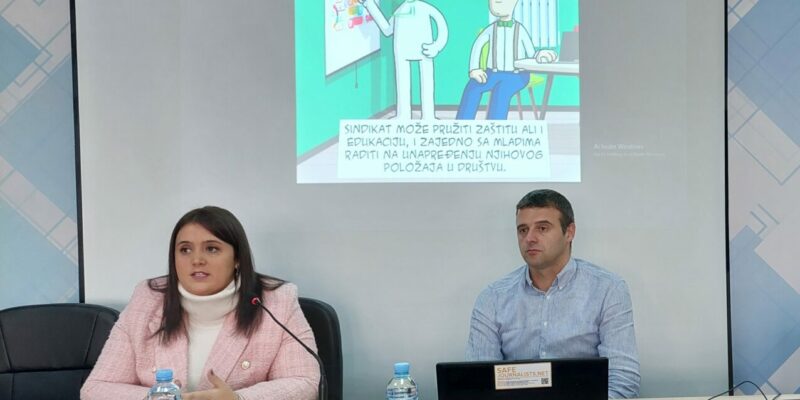 The position of journalists and other media workers in Montenegro is not satisfactory, and the worst situation is with employees on portals, it was announced at the conference of the Trade Union of Media of Montenegro (SMCG).
The president of the SMCG, Radomir Krackovic, said at the "Perspective of young people in trade unions" conference that a significant number of young people in Montenegro have decided to engage in journalism, work in portals and many work as freelancers.
As he added, that is why one of the most important activities of SMCG was mapping the situation in digital media.
"We have been conducting annual research on this since 2017 and we managed to detect what the problems are, what the financial sustainability of those media is and what conditions their employees work in, most of whom are young," said Krackovic.
According to Krackovic, the Syndicate realized that journalism is no longer so attractive for young people, so fewer of them stay in journalism.
"The position of journalists and other media workers is not satisfactory, other similar professions are better paid," Krackovic said.
Krackovic said that the Syndicate considers it very important to work on the position involvement of young journalists and media workers, as well as students and freelancers.
As he said, trade unions today are generally organizations with older members and are not attractive to young people.
Krackovic stated that data from the International Federation of Journalists show that almost a third of media union members in the world are over 50 years old, and that in the European Union only 13 percent of people under 35 are union members.
"A third of young people don't want to join unions because they think they can't help them, another third are simply uninterested, and the last third fear that union membership can bring them problems at work," Krackovic said.
He pointed out that everyone should know that membership in trade unions should not be a reason for any degradation at work or any pressure from employers.
Krackovic said that last year SMCG adopted an Action Plan for Youth, which envisages a number of steps aimed at their greater involvement and better representation in trade unions.
"That's why today we will officially form a youth network cwithin SMCG, which will bring together young employees in the media, students and freelancers," Krackovic announced.
He said that in the course of their work so far, especially through the School of Digital Unionism, they have met young people who are exceptional, informed and eager to learn about trade unionism.
Bojana Konatar, a researcher at SMCG, said that, according to official data from the Ministry of Culture and Media, there are currently 83 portals in Montenegro.
"This would not be a problem if at the end of last year we did not have the information that 108 media outlets operate in Montenegro, which means that more than 20 portals have disappeared from the register," said Konatar.
Konatar said that it is clear that the reason for this is the fact that there has been a change in the way these media are registered with the Ministry.
She said that from 2018 to today, the number of media has grown from 40 to 83, with 20 still existing and not shut down.
Konatar stated that the fact that for five years it is not possible to determine who constitutes the community of online publications, how these media are financed, and who is behind them, speaks about the weaknesses of the state, competent authorities and the media community.
"For many years, portals have been the media through which citizens get the most information, and the fact that we don't know how many there are, is enough of a warning," Konatar said.
As she said, the data show that employees in portals have the worst position compared to all other employees in the media.
Konatar said that most of the portals that are in the records of the Ministry of Culture and Media represent portals that are the media of print or electronic media, which means that they are forced to work for several different media for one salary and contract.
As she stated, it is a positive fact that an increasing number of young people, who are dissatisfied with the way traditional media or portals report, have started their own media.
"Besides the fact that they use technologies, they have their own podcasts, forums, they have an increasing number of young people working for them and a new way of financing that is mainly project-oriented," Konatar said.
Konatar said that since 2018, when young people said they wanted to work in traditional media, until today there has been a change and young people want to work on portals.
She said that they conducted a survey that included 40 respondents, of which the largest number of respondents were young people between the ages of 25 and 35 and had a work contract.
Konatar said that every other respondent works in the profession, and that 55 percent are members of trade unions.
"As the leading reason for joining the work of the Union, young people cite the struggle for greater rights of journalists, participation in issues concerning their position," said Konatar.
She said that young people cited lack of information, unemployment, lack of need for union involvement as the main reasons why they did not join the union.
As she said, the survey showed that almost every second respondent believes that young people are not sufficiently familiar with the work of trade unions.
"The respondents believe that the trade unions protect their rights and that they do so to a large extent", said Konatar and added that 61 percent of the respondents believe that the work of the SMCG is adapted to its young members.
Konatar said that young people believe that unions should provide them with protection of labor rights, education and higher wages.
The respondents, according to Konatar, believe that the key role of trade unions is in educating and informing young people.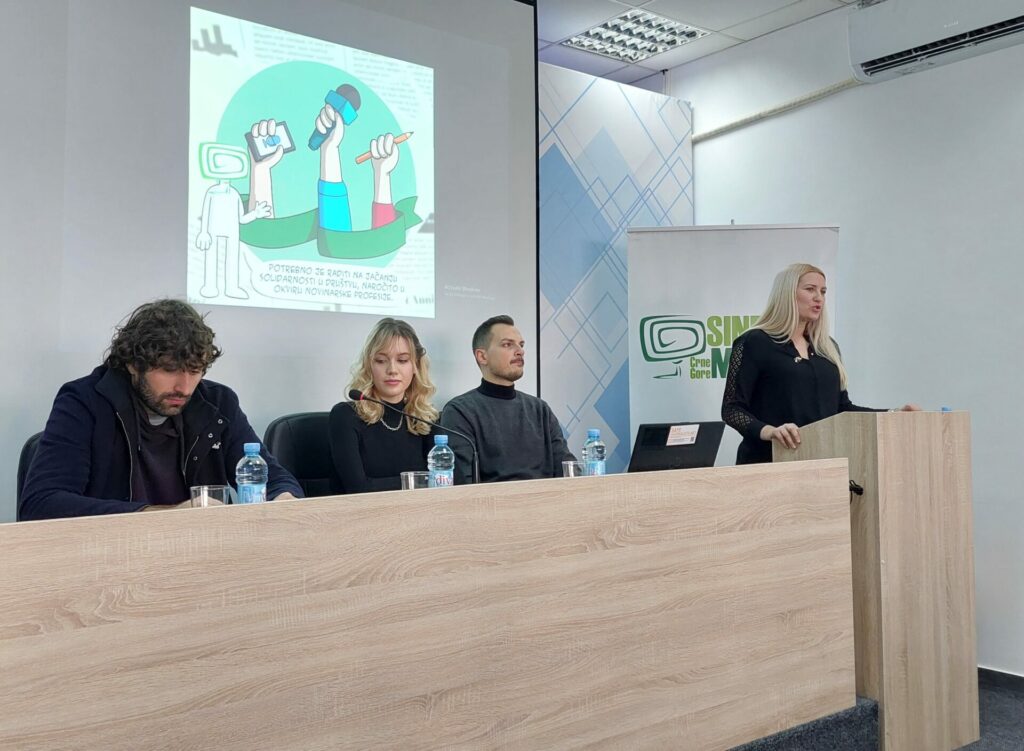 The panel "New media, a new chance" discussed the transformation of journalism in the digital age. Thus, the vice-president of SMCG and the editor of the Radio Berane portal, Milena Bubanja Obradovic, spoke about the convergence of the media at the local level and its impact on the work of journalists, while the editor of the Glas Zabjelo portal, Vladan Djurisic, stressed the importance of community media for the media scene. Journalist Nikolina Pavicevic spoke about the use of social networks in initiating important social topics, while Vuk Vujisic from the Zumiraj.me platform emphasized the possibility of networking with freelancers and supporting their work.
Successful graduates of the second generation of the School of Digital Syndicalism were presented with certificates, which were awarded to: Aljoša Turović, Milica Đurović, Bojana Šolaja, Kristina Krivokapić, Emina Rastoder, Biljana Popović, Željana Pajović, Marko Vuletić, Mia Kuzmanović, Milica Kažić, Kristina Krivokapić, Elhana Hamzić Kasmić and Aleksandra Latković.
Marko Vuletić, Bojana Šolaja and Emina Rastoder received awards for the best papers on trade unionism and youth.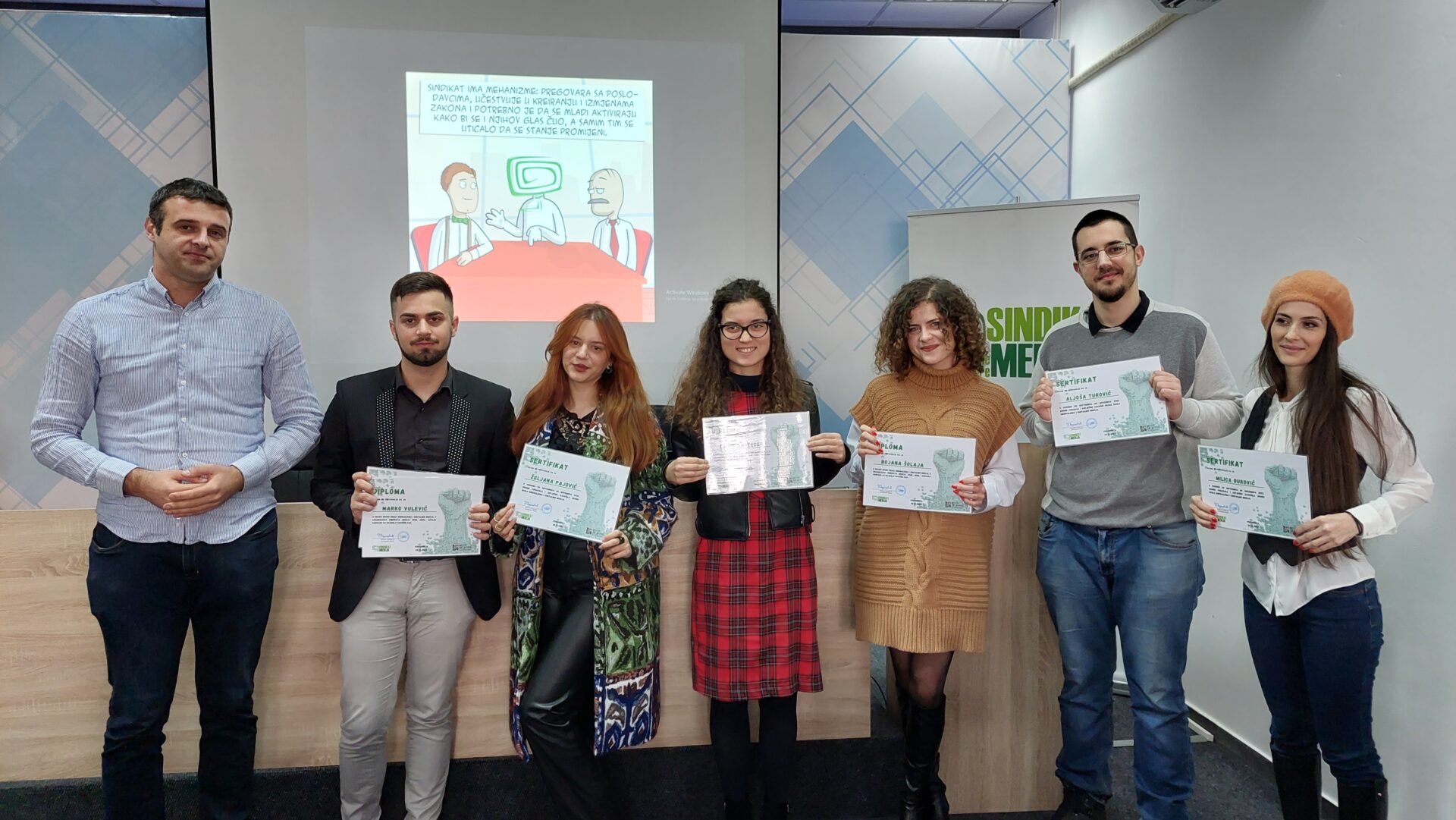 This was also an opportunity to organize a constitutive session of the Youth and Freelancer Network of the Media Union of Montenegro, which in the coming period will be active in the field of improving the position of young people on the labor market.
Source: MINA/SMCG