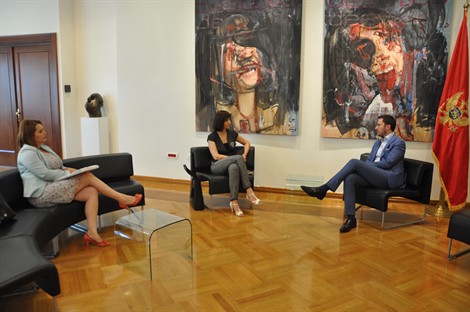 Representatives of SMCG spoke to the Minister of Culture
President and vicepresident of Trade Union of Media of Montenegro (SMCG), Marijana Camovic and Nevenka Ćirović, discussed with Minister of Culture Aleksandar Bogdanović the support of the Ministry of Culture and the Government of Montenegro to the creating optimal conditions for journalists in Montenegro.
The meeting was about changing the two media laws in progress. Minister Bogdanović presented the current status of the legal acts and found positive that the SMCG's representatives attended the working group meetings and were able to participate directly in its work.
There was also talk about the Collective Agreement for employees at Radio-television of Montenegro (RTCG) and specifically stressed that the stable working status of the public service employees is very important for this media. It is stated that the text of the document, after harmonization within this media, will be submitted to the Ministry of Culture and subsequently to the Government of Montenegro for adoption.
Minister Bogdanović also discussed with representatives of the SMCG on the amendments to the Law on Electronic Media, whose modification is planned for the next year. It was pointed out that the special interest of the SMCG is to provide stable financing of Local Public Broadcasters and that it is expected that a new legal solution will address this issue.