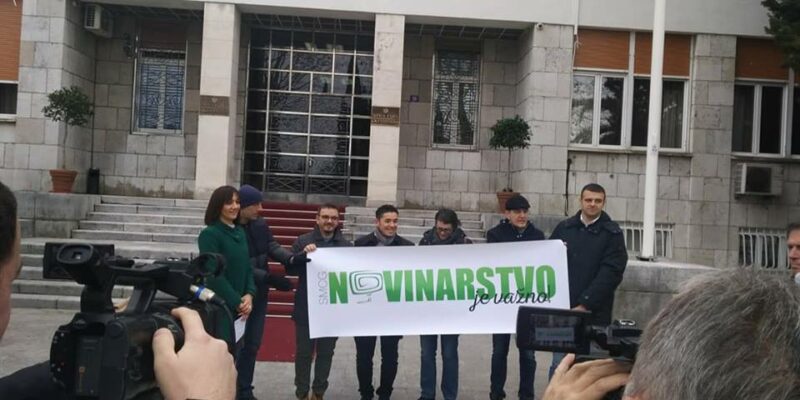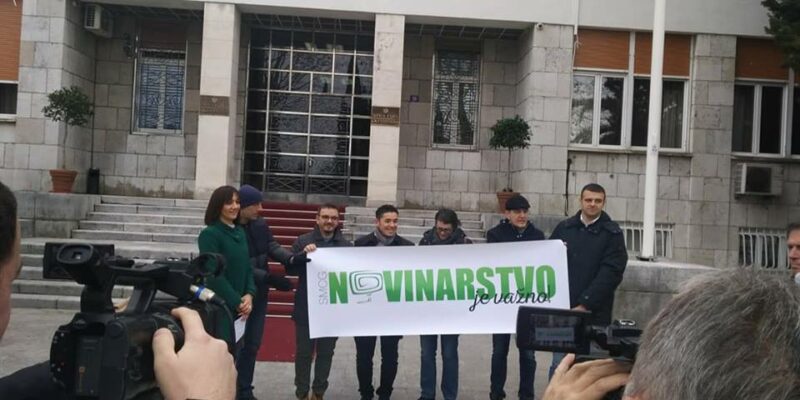 SMCG: Change the laws on media and electronic media
Today, on the occasion of the Day of Journalists of Montenegro, the Trade Union of Media of Montenegro (SMCG) submitted amendments to the media laws to all MPs in the Parliament of Montenegro.  SMCG asked for amendments to the Law on Media and Law on Electronic Media.
SMCG action was supported by the European Federation of Journalists (EFJ), Ethical Journalism Network (EJN), Kosovo Journalists' Association and journalists trade unions from Croatia and Serbia. 
SMCG President Marijana Camović, at the press conference held in front of the Parliament, pointed out that Montenegrin journalists work in an environment of censorship and auto censorship, and that their articles must "follow the line" of the media in which they are employed. She added that, alongside with this, 67% of journalists which participated in SMCG research, believed that their economic position weakened, comparing to 2016, and that more than 50% of media employees has salary less than 500 euros which is below the national average.
"Because of all of this, we asked from MPs to amend the Law on Media in order to partially improve the situation", said Camović.
SMCG proposed that new Law on Media should contain provisions that would protect the dignity of journalists and guarantee freedom of work, thus contributing to improvement of media professionalism in achievement of their public function. The introduction of the right of journalists to reject editor's order under certain conditions was proposed, as well as that without consultations with an author of an article, its content cannot be substantially changed. It was also proposed that media founders should take care of costs of court proceedings in lawsuits initiated due to published articles since currently we have situations in which media leaves a journalists to deal with disputes by him/herself and bear the costs of proceedings.
Camović also said that SMCG asked the Parliament to initiate amendments to the Law on Electronic Media since the current does not provide stable financing of local public broadcasters that have a large number of employees and are very important for citizens of municipalities in which they exist.
"SMCG requests from municipalities, which are founders of local public broadcasters, to determine the minimum amount of the annual budget for financing of those media, in order to finally ensure their sustainability. What happened at the end of the last year in Pljevlja Radio-Television, when our colleagues went on strike for more than a month due to five owed earnings, should not be repeated", said Camović.
She emphasized that municipalities should not force people to strike, owe them, who knows how much, earnings and contributions and pretend as non-responsible for that situation. If they want to have a local media – they must allow it to work freely, they should not threaten it with bankruptcy or dismissal because employees were not the ones who brought media to this situation.
SMCG's amendments to the Law on Media and Law on Electronic Media are strongly supported by the European Federation of Journalists (EFJ) stated its representative Mehmet Koksal, who is in his visit to Montenegro.
"To rebuild trust in journalism, it is important to support responsible journalists and protect their working conditions. It's important that support initiatives to develop a sustainable model for financing local media in Montenegroand it's the role of the lawmakers to guarantee that journalists and media workers are properly protected to do their job for the public's right to access information", said Koksal.
He said that in the age of electronic media and to combat fake news, the authorities should also work with SMCG to rebuild trust between the public and journalists and this relation can be improved by supporting the editorial independence of media professionals and by protecting the content produced by journalists.