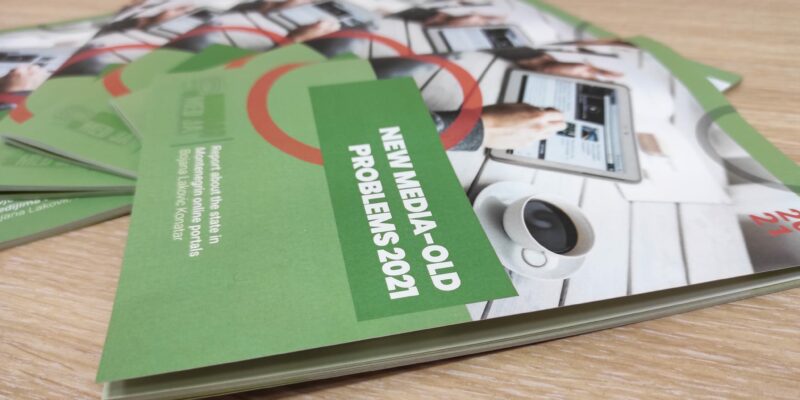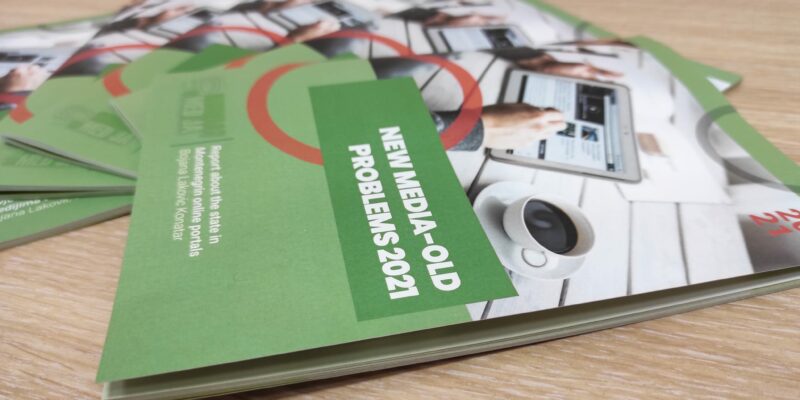 Unregulated registration of the portals, pressure on employees, unpaid work, poor position of freelancers, and lack of data on financial operations, are the problems that marked this year in the digital media. This year's survey on digital media has not shown any positive developments, compared to the previous four years since it was conducted.
Employees in digital media continue to work in equally poor conditions, undeclared work is present, wages are still below average, pressures are obvious, and overtime and unpaid work are almost constant.
Digital media in Montenegro also gathers the largest number of freelancers, who are forced to work for more media in order to provide themselves with a decent income. The freelance journalistic community in Montenegro is currently strong, with a large number of mostly young people gaining experience in the media in this way. However, the legal regulations are still not favorable to them and are mentioned in only one law.
Digital media in Montenegro has experienced the biggest expansion in the year ahead. In just four years since we conducted this research, the number of portals in Montenegro registered with the competent authorities has increased from 40 to 104. The biggest changes have been recorded in the last two years. Portals make up 50% of the total number of media in Montenegro, which speaks volumes about the influence they have on informing and creating public opinion. However, one gets the impression that the opportunity to complete this area has been missed. Especially having in mind the fact that a huge number of registered portals do not deal with information, but are different sites of non-governmental and other organizations.
From a union point of view, portals are probably one of the most insecure places for media workers to work. A large number of employees in these media work illegally, given that they do not have employment contracts and are not insured.
Also, the working day of employees in portals lasts longer on average, employees work on weekends, the pressure on them is higher (especially due to the speed of publishing information), while salaries are very low and below average.
Part of the research is dedicated to the business of digital media. Unfortunately, it is impossible to accurately calculate the value of the digital media sector or portals in Montenegro, because some portals operate within other media (TV, radio, press) and financial reports of the portal are part of the overall report of these media, and in some cases portals were founded by NGOs, companies or some other organizations, making it difficult to obtain revenue data. The closest possible data show that 49 out of 73 portals in 2020 had a total profit of just over 45 thousand euros, with total revenues of one million and 479 thousand euros and expenditures of nearly one million and 434 thousand and in them is 71 employees were registered. Almost half of the portals, or as many as 24, did not report full-time employees or stated that there were 0, which indicates that there is undeclared work in this sector.
When it comes to digital media in Montenegro, they mostly employ the most freelancers. Although the legislation does not sufficiently recognize and protect them, the Montenegrin media scene boasts a good network of freelance journalists. There are no official statistics on their number, but the Media Union of Montenegro has formed a special network of members who are freelance journalists and is trying to determine with them what the biggest problems are and possible ways to solve them.
The focus group with new members – free journalists – pointed out five main problems that will be the focus of the work of the Union. Their problems are, among other things, that neither labor nor media legislation recognizes them, as they do not have employment contracts, mostly work "on the black market" – without health and pension insurance, do not have editorial support, and are not recognized by the Central Register of Business Entities, and do not have access to state funds.
Freelance journalists live from today to tomorrow, in constant uncertainty when it comes to earnings, so for them, any planning of serious life moves is almost impossible.
The research of Trade Union of Media of Montenegro contains a number of recommendations aimed at improving the position of employees in digital media.
The state must adopt bylaws that would regulate the portal registration procedure in more detail. It is necessary to legally protect freelancers, which will be more and more in the coming years. The state, media owners and portal employees must recognize and respond in a timely manner to the challenges posed by job digitization and the digital economy.
The report is part of the "Union to Union – Recruitment and Organizing Campaign in CEE 2021" program, which is implemented with the support of the International Federation of Journalists (IFJ), Union to Union and the Swedish Journalists' Union.
Bojana Lakovic Konatar, author of the research