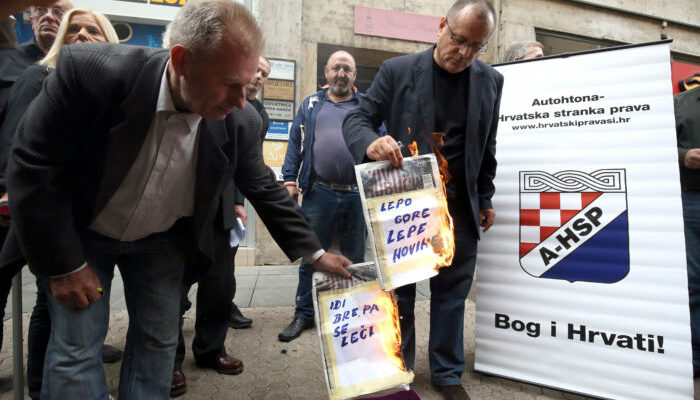 The Western Balkans Regional Platform for Advocacy of Media Freedom and Journalists' Safety, representing more than 7800 members, strongly condemns public incidents of torching copies of Novosti Weekly and threats made against its journalists by the Autochthonous Croatian Party of Right (A-HSP) members.
In last ten days members of A-HSP party torched copies of Novosti, weekly magazine published by Serbian National Council with headquarter in Zagreb on two occasions.
A-HSP accused Novosti journalists of spreading hate against Croats and demanded blocking of financing the magazine through the State Budget. Threats against Novosti journalists – expressed directly or through social media – were part of the incident.
"The latest frenzy started by accusing Novosti journalists of inspiring arsons along Croatian coast by their articles and was followed by torching some copies of the magazine. ", said Sasa Lekovic, president of the Croatian Journalists' Association (CJA) and added, "This case it is all about harangue based on nationality and history teaches us that whatever starts as insults, turns into threats and ends in physical violence. We request from the authorities to react adequately and the Prime Minister Plenkovic to publicly condemn this incident"
Journalist organizations of the region, the Platform members, join CJA in requesting the Croatian administration and its leadership to condemn this incident, act upon it and adequately punish the perpetrators.
Since 2017 CJA registered 6 incidents of attacks and threats against journalists in Croatia, not including two incidents of torching Novosti.
The Platform considers any attack on journalists an attack on the public interest, democracy and the rights of all citizens.
Skopje – Belgrade – Podgorica – Pristina – Sarajevo – Zagreb, 13.09.2017.
BH Journalists Association
Trade Union of Media of Montenegro
Croatian Journalists' Association
Association of Journalists of Kosovo
Association of Journalists of Macedonia
Independent Journalist Association of Serbia