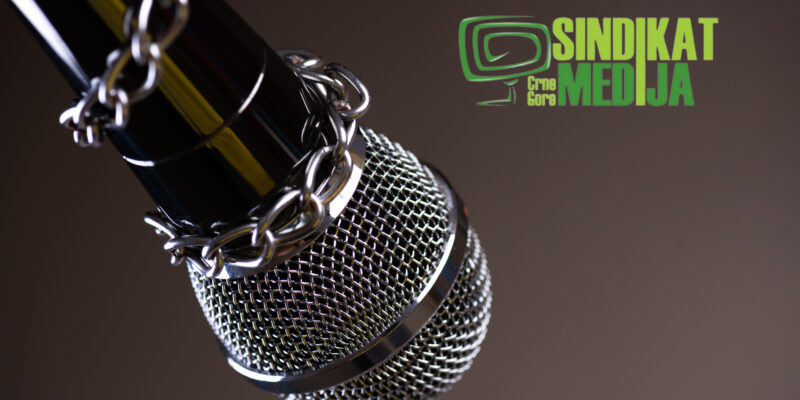 Montenegrin journalists and media workers welcome another Day of Journalists, January 23, in conditions that are often humiliating and do not reflect the role they play in society.
Employees in the media must not be collateral damage of social turmoil, as the Trade Union of Media of Montenegro (SMCG) has been pointing out for a long time. Regardless of the editorial policy of the media, employees are faced with the same problems: they are mostly paid below the national average, they are exposed to work overload and not paid for overtime, and they are exposed to pressure, threats, attacks, and some are to censorship and self-censorship.
Media freedom does not only mean improving the position of media outlets and improving their financial situation. Employees in the media are the ones who create media content, who responds to the public and inform our citizens. We hope that employers in the media soon will become aware of this so that they will sit down with the unions as soon as possible and agree on a Branch Collective Agreement (GKU) for media sector. This will enable media workers to improve their socio-economic position and, above all, to have a normal and decent life. We have witnessed that numerous industries have fought for better wages, and we believe that it is the journalist profession's turn as well. SMCG will not allow journalists and media workers to remain in the background when it comes to improving their standard.
Last year, SMCG and the Union of Information, Graphic and Publishing Services prepared a proposal for a new Branch Collective Agreement, submitted it to the employers, and several initial meetings were held, but concrete negotiations have not yet begun. SMCG will insist that employees' salaries be increased by 15 to 20 percent, as well as to ensure the improvement of a number of labor and professional rights. We will also insist that state aid to the media must also be felt by employees, creators of media products for which the state gave money to their owners.
At the same time, on the Day of Journalists, we ask the Government and the Parliament of Montenegro to finally adopt the Media Strategy and new media laws this year in order to improve the situation in our profession, ensure greater sustainability of the media, respect professional standards and oppose negative phenomena, such as hate speech, fake news and disinformation campaigns.
We wish employees in the media to show solidarity, resist pressure and anti-union activity, and see the SMCG as a sincere partner in the fight for a better position of our profession.