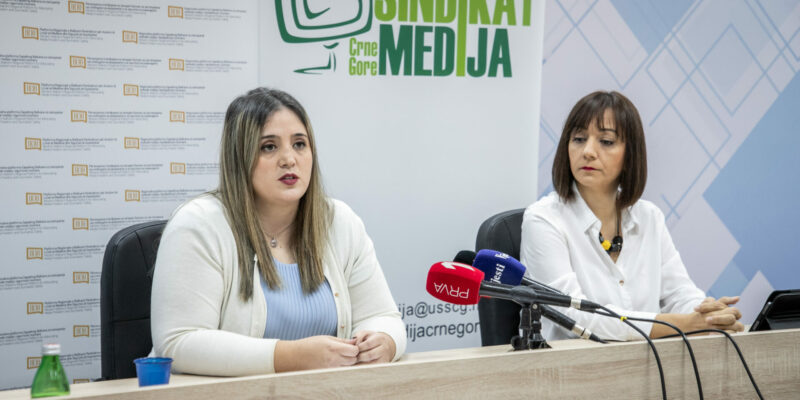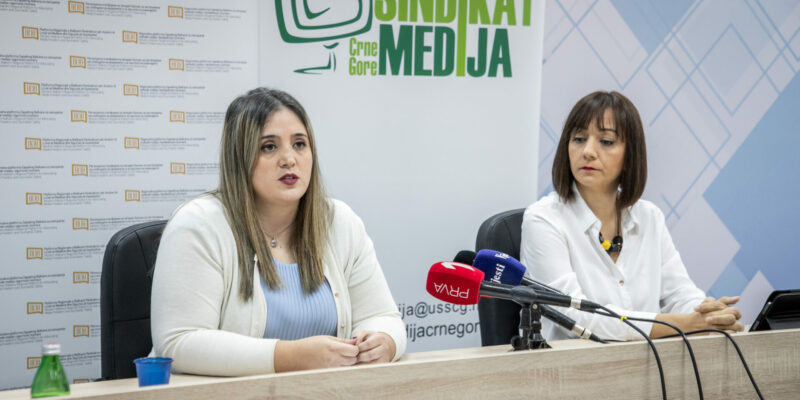 Montenegro ranks third in the region when it comes to the journalist safety index with a score of 3.59, after Northern Macedonia and Croatia, it was announced at a press conference of the Trade Union of Media of Montenegro (SMCG).
SMCG today presented the research "Journalists' Safety Index" in Montenegro, which refers to the situation in 2020, which is determined as the first year for the development of a conceptual framework and methodology for scoring, aggregating and calculating the Index.
The president of the SMCG, Marijana Camovic Velickovic, said that the Journalists' Safety Index is the first attempt of its kind to rank the level of safety of media employees in the region.
"The index was created with the aim of measuring and monitoring changes in the political environment in seven countries of the Western Balkans, which have a direct and indirect impact on the safety of journalists and media actors in the course of their work," explained Camovic Velickovic.
She said that the security index for Montenegro is 3.59.
"If it is known that the ratings ranged from one as the worst to seven as the best, all countries are moderately rated, and Montenegro is in the middle of the region, behind Northern Macedonia with a score of 3.93 and Croatia with a score of 3.73. It is followed by Kosovo with 3.39, Albania with 3.38, Bosnia and Herzegovina with 3.00 and Serbia with the worst ranking with 2.95 ", stated Camovic Velickovic.
She explained that the Index relies primarily on research evidence collected and analyzed by safejournalist.net partners in accordance with a rigorous research procedure and in a way that can track changes that will occur over time.
Based on research material, nine members of the Advisory Panel from each country assess the situation and award points for each of the 19 indicators in four areas – legal and organizational environment (existence and application of legal guarantees relevant to journalist safety), prevention (existence and application) various preventive measures that have a direct impact on the protection and safety of journalists), the process (treatment of journalists by state bodies and public officials and the effectiveness of the criminal and civil law system related to investigations of threats and violence against journalists) and real security (incidents and cases of various threats) and acts of violence against journalists and the media) ", said Camovic Velickovic.
She pointed out that in Montenegro, the Advisory Panel consisted of experienced journalists as well as legal and media experts.
Researcher Bojana Konatar said that, when it comes to the legal and organizational environment, ie laws that protect the safety of journalists in Montenegro, the score is 3.71, for preventive mechanisms 3.75, for procedural actions 3.41 and for real security 3.58.
"Montenegro received the best marks for freedom of association and freedom of trade union organization, and for access to special protection mechanisms, which are available to journalists if they are under threat or are victims of attack. Montenegro is also better rated in the area of ​​source confidentiality," said Konatar.
She explained that Montenegro was rated the worst for other laws protecting journalists, explaining that the rating was such because journalists were arrested last year for spreading false news.
"Also, investigations are what Montenegro is not recognized for as a country that protects journalists in the right way because they are not conducted quickly and thoroughly. In a large number of cases, there is no judicial epilogue or they have not been resolved. We were assessed badly because of physical threats and harassment, but also because of threats and attacks on the media," said Konatar.
When it comes to legal provisions related to defamation and their application, they generally do not cause the effect of intimidation among journalists and the media and the score is 3.55.
"Defamation has been decriminalized, but a large number of lawsuits can have the effect of discouraging journalists, as well as the duration of proceedings. Only the most serious cases come to light, in which large sums of money are demanded from the media and journalists, as well as cases in which they are sued by public officials, politicians and other media. Such cases were not recorded during 2020, but 22 lawsuits were initiated on this basis," Konatar said.
She pointed out that the rating of 4.57 was given for the confidentiality of journalistic sources and for the fact that this right is guaranteed by the legislation.
"The protection of journalists is well regulated by the Law on Media, but there is a danger that state bodies will use the envisaged restrictions and seek disclosure of sources, even when it is not necessary. The case of Jovo Martinovic – an investigative journalist who ended up in prison due to contact with a source of information, causes a certain degree of self-censorship among journalists, "said Konatar.
According to her, when asked whether other laws are applied objectively and allow journalists and other media actors to work freely and safely, Montenegro received a score of 2.90.
"Unfounded arrests of journalists due to the spread of panic and riots, as well as fear of SLAPP lawsuits are the cause of low results in this field. Directly and indirectly, the authorities continue to restrict media freedom and make it more difficult for journalists to work. Three journalists from three different media outlets were arrested in January 2020. Although they were acquitted, it is clear that these cases caused an intimidating effect," Konatar said.
She said that, when asked whether journalists are free to practice their profession and to establish, join and participate in the work of journalistic environments, Montenegro was rated with 4.21.
"Licenses have not been introduced and there are no new initiatives to license journalists. Journalists have the freedom to organize and associate in various professional associations. However, there is pressure on some individual union members or the entire union organization, which encourages an atmosphere in which union membership is still considered undesirable. More than half of the media workers are united in the Trade Union of Media of Montenegro," said Konatar.
When asked whether the work of journalists is stable and whether they are protected in the workplace, the score is 3.35.
"The economic position of journalists is worsening from year to year. Labor rights are not fully respected, especially not in private media, local and online media, and wages are below the national average. The corona crisis has not helped employers realize that they need to provide economic support to journalists so that they can do their job smoothly. Although the state was very generous to the media, the employees generally did not receive any increase in salaries during 2020, despite the multiplied volume of work," said Konatar.
Asked whether journalists and media actors have access to immediate and effective safeguards when threatened, Konatar said the score was 3.55.
"The police have hired special teams that should help solve cases of attacks on journalists, but so far it has not had much success. During 2020, 18 cases of attacks and threats to journalists and media organizations were registered. The problem remains that a large number of registered cases of threats and attacks, prosecutors still mark as misdemeanors, and not criminal acts", said Konatar.
She pointed out that the score of 4.04 is for journalists and other media actors to have access to special protection / security mechanisms.
"There are general mechanisms that enable the protection of journalists and their physical integrity, but still journalists do not have special protection mechanisms. The state conducts security risk assessments in certain cases, when after the attack it is assessed that the safety of journalists may be endangered and that the attack may be repeated. During 2020, two journalists received police protection. "Only non-governmental organizations offer legal and psychological assistance to journalists who are victims of attacks and pressures," said Konatar.
She said that when asked whether journalists have access to legal measures and support mechanisms when faced with gender-based threats, harassment and violence, the score is 3.91.
"There are state-level mechanisms that protect women and women journalists. There is still a lot of room for improvement when it comes to journalists. During 2020, an increase in the number of cases of threats and attacks on journalists was registered, and there are six such cases in the register. An increase in the number of online threats to journalists has also been registered. In one case, the ombudsman discovered that a journalist from the Public Service was discriminated against on the basis of religion," said Konatar.
Speaking about the practice of regular public condemnation and attacks on journalists and the media and whether it has been established, Konatar said that the score is 3.55, while when asked whether the police authorities are sensitive to the safety of journalists, the score is 3.73.
"When asked whether specialized investigative units and / or officials are equipped with relevant knowledge for the investigation of attacks and violence against journalists, the score is 3.46. The government has previously set up a special unit to attack journalists and media assets, but its success is only partial, due to poor co-operation with state investigative bodies. There have been no other attempts to establish better protection for journalists. Threats and attacks on journalists are still not recognized as special crimes," Konatar pointed out.
She said that investigations of serious physical attacks on journalists and other media actors are rated 3.17.
"No serious case of attack on journalists has been fully investigated, even the murder of Dusko Jovanovic after so many years has not been resolved. The orderers are still unknown. Investigations into attacks on journalists are still slow, lengthy and often fruitless. Some of the most serious cases are outdated," said Konatar.
She said that the score of 3.58 was for the effectiveness of protection of journalists and other media actors when it comes to various forms of online harassment, while the score of 3.42 was for investigations of all types of attacks and violence against journalists and other media actors to be conducted transparently.
"When asked whether the state authorities have established a quality system for collecting statistical data in order to prevent impunity, the score is 3.43", said Konatar.
Speaking about non-physical threats and harassment, Konatar said that the score was 3.16, explaining that last year was specific and extremely difficult for journalists, especially considering that they worked during the crisis, parliamentary elections, change of government, as well as and at the time of mass liturgies for the adoption of the Freedom of Religion Act.
"A large increase in the number of threats and harassment has been registered, especially through social networks. There were also cases in which journalists were wiretapped and this information was disclosed after the election. Three of the four registered cases in this category concern female journalists. It is worrying that in one case, the threats moved to the real world, because the journalist was stalked", said Konatar.
The rating for threats to the life and physical safety of journalists is 3.98, while when it comes to actual attacks, the rating is 3.89.
"During 2020, two physical attacks were registered, but there were no situations in which journalists suffered more serious injuries. Unfortunately, the beginning of last year showed that the authorities can find a way to deal with the work of journalists who do not suit them, even if that means their arrest," Konatar said.
She said that the score was 3.30 when it comes to threats and attacks on media institutions, organizations, media and journalist associations, stating that a number of these cases had been registered in previous years, but that the threats had probably moved to social networks due to the pandemic.