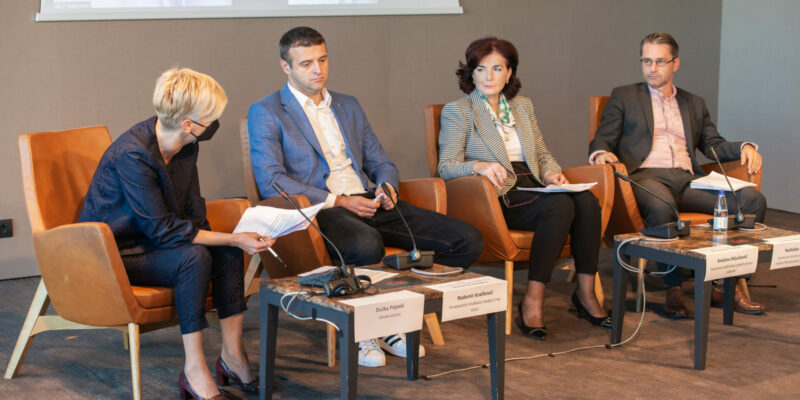 Journalists are increasingly exposed to attacks, threats and intimidation, and the guidelines for risk assessment during reporting are a step forward in ensuring and protecting their safety, it was said at the conference "Journalism in Challenging Times: Obstacles to Democracy".
The president of the European Federation of Journalists, Maja Sever, said that due to increasingly frequent attacks, we must all work together to protect the safety of employees in the media.
"The responsibility must also be shared by employers in media houses who must ensure the protection of journalists, at least basic, such as risk assessment, equipment insurance, a plan to cover risky events, psychological assistance, not to mention assistance when reporting from crisis areas such as Ukraine" said Sever at the conference organized by the Swedish media institute FOJO and the Trade Union of Media of Montenegro (SMCG).
The President of the Trade Union of Media of Montenegro, Radomir Kračković, said that threats to the safety of journalists have increased in recent years, and appealed to the authorities to deal with unsolved cases of attacks on journalists.
"Politicians and officials in Montenegro must indiscriminately condemn attacks on the media, regardless of whether they like their reporting or not," Kračković said.
He announced that SMCG will soon present guidelines for risk assessment in order to better protect the journalists from possible attacks.
"These guidelines will provide countermeasures on how to report and take care when reporting from high-risk events, such as demonstrations, protests, natural disasters, health crises, how to better protect journalists from online threats, especially female journalists, protect or reduce the risk of attacks during reporting", Kračković said.
He emphasized that the economic and social position of journalists in Montenegro is threatened by growing inflation, as well as the overload of media workers in the past three years due to the coronavirus, local and global political events.
The Director General of the Media Directorate of the Ministry of Culture and Media, Neđeljko Rudović, said that this department, in cooperation with media associations and non-governmental organizations, is preparing the first Media strategy in Montenegro, as well as a set of new media laws.
"If someone wants to keep journalists in fear so that they don't do their job and be "obedient", they use various mechanisms such as threats and violence against journalists. Montenegrin society must find a way to deal with it", said Rudović.
According to him, one of the key problems when it comes to the challenges of journalism is the spread of hate speech and misinformation, that is, attempts to "stifle" journalism.
Lars Talert from the Swedish media institute Fojo said that security is a much broader concept than helmets and bulletproof vests, and that it is somehow connected to everything that journalists do not only in war zones, but in all countries.
Speaking about what is needed for journalism to be sustainable, he said that it does not only refer to the economic or sustainability of the work environment, but also to social sustainability in newsrooms and media organizations.
Deputy Protector of Human Rights and Freedoms Snežana Mijušković said that the clear and sharp polarization of the media community is still ongoing.
"Evident problems that, in addition,  burden the media scene are reflected in unequal self-regulation, cases of violations of the journalists' code, the unenviable economic situation in the media" Mijušković assessed.
Mijušković believes that the activities of the Commission for Monitoring and Investigating Attacks on Journalists should be strengthened, the practice of public authority holders and politicians threatening dismissals, shutting down the media and jeopardizing media freedom should be stopped, and they should discourage an atmosphere of intolerance towards journalists and newsrooms due to dissatisfaction with reporting.
"In this regard, mechanisms for complaints about the work of the media, media ombudsmen and self-regulatory bodies should be strengthened", added Mijušković.
Speaking about disinformation, a member of the Commission for Journalistic Ethics of Ukraine, Oleg Khomenok, said that in that country, there is a spread of disinformation from both the Russian and Ukrainian sides, whose goal is to mobilize society and encourage certain actions.
He said that in order to combat the spread of disinformation, court mechanisms are being used to stop the broadcasting of certain media, as well as that the Government is actively cooperating with social organizations aimed at countering disinformation.
The director of the Association for Independent Media of Moldova, Petru Macovei, said that this country is at the center of disinformation activities of Russian propaganda, due to its geographical position, but also because, as he stated, Russia cannot accept that countries that were once part of the Soviet Union choose their own path.
He pointed out that social networks are the main channels for spreading misinformation, and that the main source are mostly pro-Russian politicians.
Macovei said that he noticed that in Montenegro there are some pro-Russian media that spread misinformation.
Darvin Murić, editor in the fact-checking newsroom of Raskrinkavanje.me, said that it is not new that there are pro-Russian media and portals in Montenegro that openly support aggression against Ukraine and often spread disinformation. He said that in Montenegro the problem of disinformation is much smaller because larger and more relevant newsrooms are not subject to such influences.
The interlocutors agree that the problem is that disinformation spreads much faster than the information that refutes it, and that media literacy is very important so that citizens can filter information and develop critical thinking.
Serbian journalist Jelena Zorić, at the panel on threats to the safety of journalists, said that for the past decade, journalists in the countries of the region have been targeted: "There is a tradition of attacks and crimes against journalists, who normally work in the public interest and insist on respecting institutions, but also the tradition of not solving those attacks".
Dušica Tomović from the Balkan Investigative Reporters Network (BIRN) said that the methodology of attacks and threats to journalists has changed a lot, that attacks are happening more often in the digital world, and that media editorial offices are not aware of the dangers and how the work of journalists is threatened.
She believes that this problem can be influenced by introducing the procedures for rules of conduct in newsrooms. Tomović, who is an investigative journalist, said that she feels safe and that she believes that in Montenegro the problem of journalists' safety is not so pronounced, stating that attacks on journalists are "sometimes misused".
Marijana Camović Veličković from SMCG emphasized that in that trade union organization they are preparing guidelines for risk assessment, in order to put the issue of journalists' safety at the top of the employers' agenda. She said that the number of attacks on journalists has increased in recent years, and that in the last three years there have been more than 70 registered attacks and threats, and that they have mostly moved to the online sphere and attacks during coverage of protests.
"Guidelines will be offered to newsrooms, which is only the first step towards building a safety culture for employees in the media, and we hope that they will see their importance in preventing and controlling risky situations," stated Camović Veličković.
Dalibor Tomović, a member of the Commission for Investigating Attacks on Journalists, said that the work of that body had been obstructed for a long time, but that they only now began to receive information that was not censored and that they had established much better communication with state authorities.
He said that the Commission, as well as the Montenegrin society, is burdened by old cases that have not been resolved, such as the murder of editor-in-chief Dan Duško Jovanović, the attempted murder of journalist Tufik Softić, the attacks on Olivera Lakić.